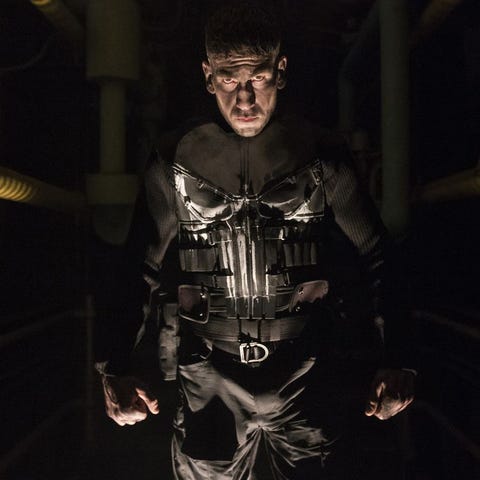 Netflix may be on a superhero-canceling binge lately—axing both Luke Cage and Iron Fist—but fans of The Punisher have reason to rejoice: The streaming superhero series will indeed be back for a second season. The show occupies the Marvel Cinematic Universe, meaning it's directly connected to the movies, and Marvel produces it along with ABC Studios for Netflix.
The first season saw Frank Castle, AKA the Punisher—who also appeared in earlier Daredevil episodes—brutally hunting down gangsters while uncovering a government conspiracy involving his time in the military.
Shortly after being unleashed on the world, The Punisher was renewed for a second season. Here's what to know about Castle's return to Netflix.
When is The Punisher Season 2 out?
Netflix picked up The Punisher for another go-around shortly after dropping season one at the end of 2017. Production on Season 2 wrapped in August, and it's expected to have an early 2019 release date. Needless to say, until then, superhero die-hards will have to make do with the latest, critically well-received Daredevil episodes.
Who's in The Punisher Season 2 cast?
There is, of course, the Punisher himself, embodied in an intense performance by the phenomenal character actor Jon Bernthal. (He's the intimidating-looking guy from The Walking Dead, The Wolf of Wall Street, Fury, and Sicario.)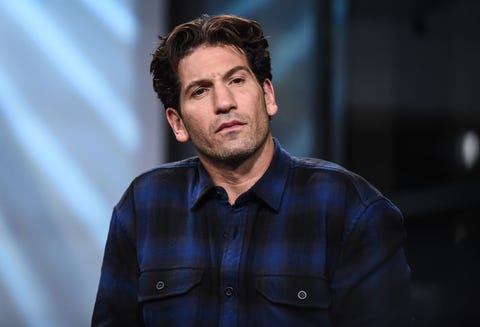 Getty ImagesDaniel Zuchnik
You can expect the return of big baddie Billy Russo, played by Ben Barnes of Westworld, who's been officially announced in the cast. But he won't be looking so hot after Castle smashed his face through glass at the end of season one, severely disfiguring his mug and putting him in a coma. If the comics are anything to go by, we'll watch him devolve into an even more monstrous villain.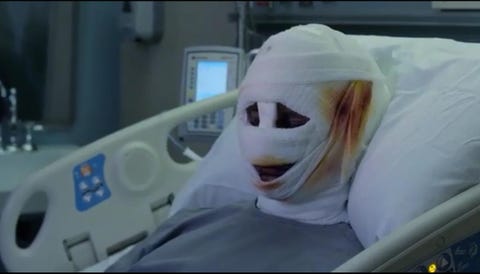 Netflix
Amber Rose Revah and Curtis Hoyle will also be back as Dinah Madani and Jason R. Moore, respectively. And the lineup is getting some new members: Josh Stewart as John Pilgrim, a man with ruthless secrets; Floriana Lima as Krista Dumont, a psychotherapist for military veterans; and Giorgia Whigham as Amy Bendix, a grifter with a past. More recently, the production touted additional cast members Corbin Bernsen as nefarious wealthy figure Anderson Schultz and Annette O'Toole as his shifty wife Eliza.
What's going to happen in the next season of The Punisher?
Castle will, of course, continue stamping out criminals in his own vigilante way. Given what we know, we can also expect him to wrestle again with Russo, who was once part of his military unit. Russo may also become known by his other name in the comics— Jigsaw—referencing his destroyed face at the hands of Castle. However, he'll likely take a backseat to a newer villain. Given what Netflix has released about their characters, you can almost be certain that Anderson and Eliza Schultz will serve as antagonists for Castle in some way.
For his part, showrunner Steve Lightfoot has had a plan in mind all along. "I always knew what the journey of season one was, which meant I knew what season two would be," he told Collider.
Of fan expectations, he added, "That's always tricky because you get such a variation. Some people love it, some people hate it, some people are in the middle. My personal opinion with that stuff is you just have to be true to the character and the story you choose to tell."
What are fans saying about Season 2?
Some Reddit users suspect that Castle will more fully transform into the Punisher he's known as in the comics—a little less self-righteous, and a lot less apologetic about his killing ways.
"Frank in Season 1 wasn't exactly the punisher, he was an ex-marine trying to end a conspiracy surrounding his family. It's going to be interesting to see Frank lose his sense of humanity. There's also Jigsaw to deal with," one Reddit user wrote.
One of the most popular fan theories on Reddit is that the writers may adapt a storyline from the comics involving Castle delivering his brand of justice to a group responsible for a ring of sex slavery. This is known as the slavers narrative from the MAX imprint of Marvel comics from 2005 to 2006. It's not exactly network-friendly, but then again, Netflix makes its own TV rules.
And it could certainly push Bernthal into becoming the Punisher he's meant to be.
Source: Read Full Article