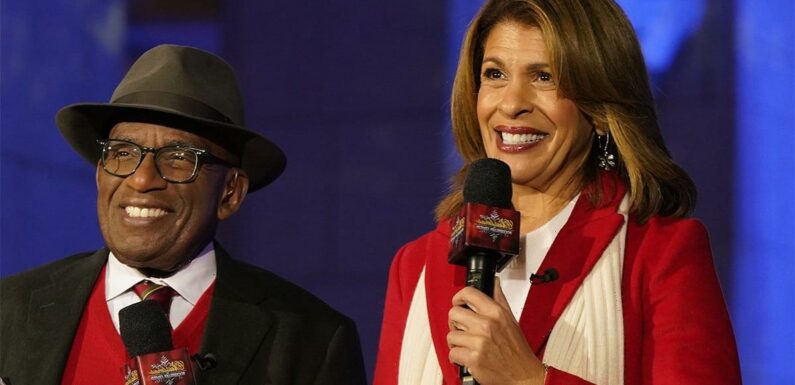 Hoda Kotb could not contain her joy on Friday when she shared the most touching message for co-host Al Roker who was back on the Today Show after returning home from hospital.
TRENDING NOW: Zara Tindall has a total Cinderella moment in beautiful billowing dress – wow
Taking to her Instagram account, the star posted a string of moving photos of Al sitting with his ABC star wife, Deborah Roberts. He was also captured as he walked on set and greeted the rest of the team, who all couldn't be happier to see him return.
WATCH: Deborah Roberts reveals husband Al Roker was a 'medical mystery'
Captioning the photos, the star penned: "He's Home! We love you @alroker Great pix @photonate."
HODA FAMILY: Hoda Kotb's children's alternative living situation revealed one year after shock split from fiancé
EXCLUSIVE: Hoda Kotb and Savannah Guthrie open up about their friendship
The featured photo in the carousel saw the fellow anchors rejoicing as Al spun around on his chair. Another touching moment showed an intimate shot of Deborah with her hand on her husband's leg as he sat beaming from ear to ear on the Today sofa with her.
https://www.instagram.com/p/CnE58KFLIQH/
A post shared by Hoda Kotb (@hodakotb)
Al's castmates were so excited to see him back on Friday
Al has suffered a series of major health setbacks over the last few months and was absent from Today for almost two months after he was admitted to hospital twice in a short space of time due to blood clots traveling to his lungs.
Friends and fans rushed to comment on Hoda's sweet message. One follower wrote: "In tears alllll morning …WELCOME BACK AL‼️‼️‼️" alongside two red love heart emojis.
https://www.instagram.com/p/CnEzo1iOXYR/
A post shared by Al Roker (@alroker)
Al is the weatherman on the Today Show
A second added: "You have been missed and you sir are loved." A third penned: "I love this!! Such JOY."
Upon his return, Al also shared a touching update on Instagram where he thanked his wife Deborah for "getting him through" his illness. He penned: "Can't thank @debrobertsabc enough for getting me through this medical crisis." He then added: "And now that she's here at @todayshow maybe she might stay? Just kidding!!"
Deborah was one of the first to comment on the post, writing: "I'm doing fine across town at ABC. But thanks."
Source: Read Full Article