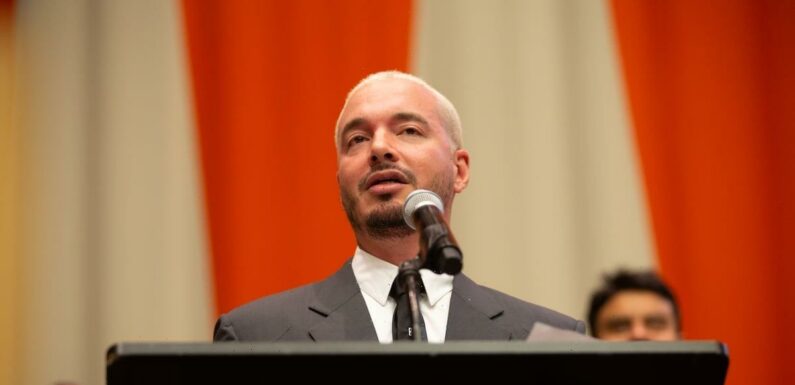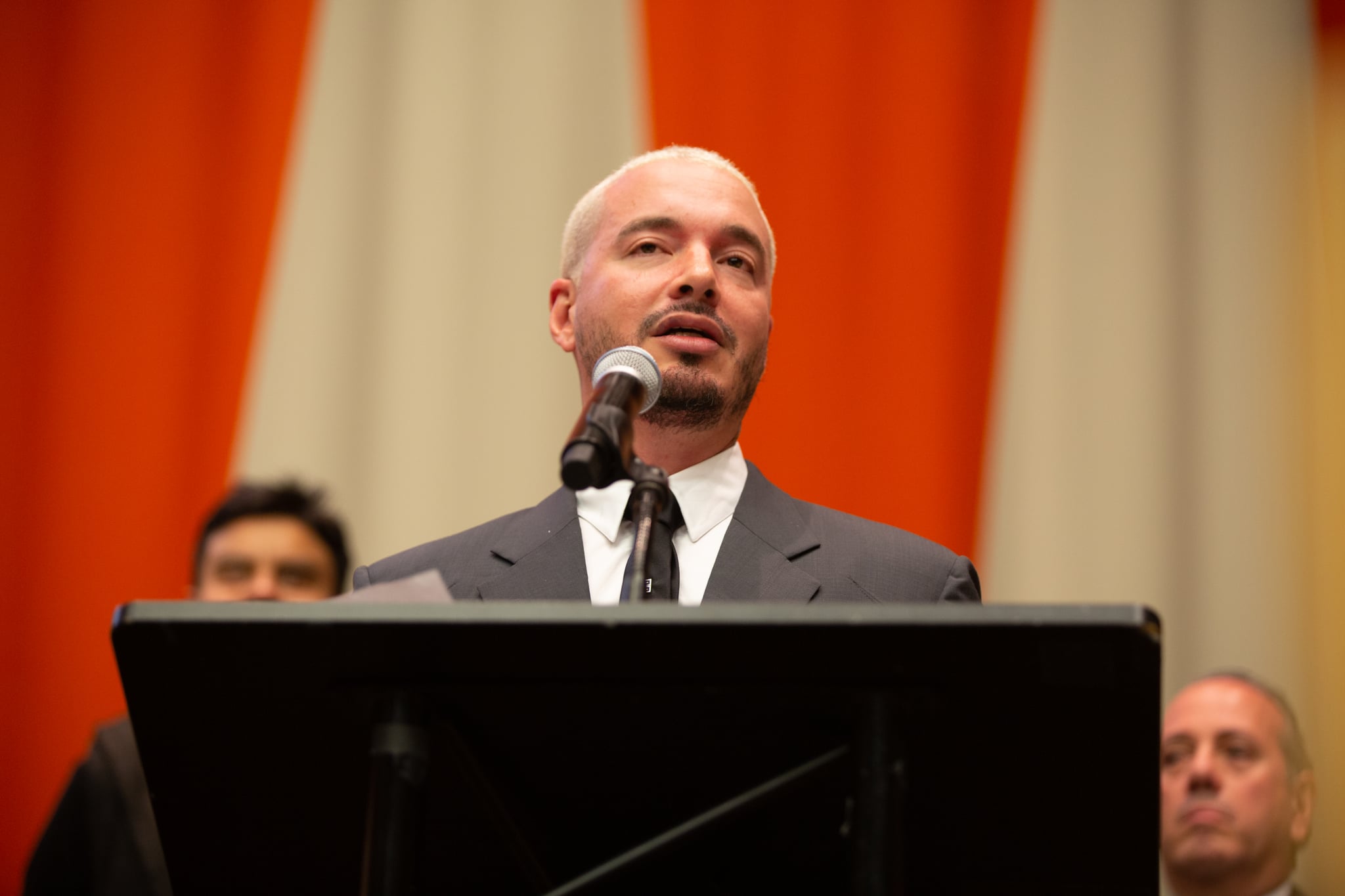 Ever since J Balvin (Jose Álvaro Osorio Balvin) began publicly opening up about his own battles with anxiety and depression, the Latin music artist has seriously committed himself to breaking the stigma of mental health issues for Latinx communities. This year, he launched Oye, the very first bilingual wellness app for Latinx communities with a mission to "enable Latinx and Gen-Z youth to learn how to feel better, unlock their creativity, and transform emotions through creative actions." The Colombian singer, who serves as the app's chief dream officer, also announced his collaboration with NBC Studios to host a new six-part docuseries titled "Gente Sana" with Exile Content Studio, to release on Peacock. In recognizing Balvin's dedication to serving the community when it comes to wellness and mental health, he was honored at the Latino Impact Summit held at the United Nations on Thursday, Nov. 3.
The Latino Impact Summit works "as the main platform to showcase and propel the impact made by the region's SDG leaders in the public, private and non-profit sectors." After receiving his award, Balvin shared a bit about his own journey and his involvement with Oye.
"Over the course of my life, I've seen my city (Medellín, Colombia) undergo a transformation from fear to creativity. And that is the same path I have traveled as an artist and one people worldwide now yearn for themselves and their communities," Balvin said in Spanish at the summit. "The pandemic, climate change, inequality, financial crisis: all of these things bring people into states of fear, sadness, and apathy that ultimately can lead to depression, or worse."
Balvin went on to present Gallup's global research findings on world citizens' well-being. According to Gallup's new book "Blind Spot: The Global Rise of Unhappiness and How Leaders Missed It," unhappiness has been rising across the world for a decade. Surveys show that in 2006, the 20 percent of the world who rated their lives the best had an average life rating of 8.3. The 20 percent who rated their lives the worst, by contrast, had an average life rating of 2.5. But in 2021, the 20 percent who rated their lives the best had an average life rating of 8.9; the 20 percent who rated their lives the worst had an average life rating of 1.2. The gap of 7.7 was the highest in Gallup's tracking history.
"Each year, Gallup surveys roughly 150,000 people in over 140 countries about their emotional lives. Experiences of negative emotions — related to stress, sadness, anger, worry, and physical pain — hit a record high last year," Balvin said. "Improving the way that people feel on the inside and helping people understand the nature of inner climate change is an urgent global need. As an artist, I've learned to channel my most challenging emotions into creativity."
The reggaetonero continued on and shared how channeling his emotions into creativity has not only healed him but has also allowed him to connect with people all around the world through music and advocacy. The Oye app includes exercises and activities that allow users to express whatever emotions or feelings are coming up for them through creativity.
"I see this award as a recognition of my purpose to help people feel better, but also of the culture and communities who made me the person I am today, especially Medellín, Colombia, and reggaeton," he said. "The communities have taught me so much about overcoming fear, embracing creativity, and believing in my dreams."
Balvin's approach with Oye is all about creative wellness and what he refers to as "the practice of being present in our internal climate change and recognizing that there are no good or bad emotions." He believes that our feelings are simply indicators of what we need to continue creating the life that we want. He breaks down the three important steps needed to achieve creative wellness as he defines it: learning to name our feelings, being present, and achieving creative wellness in practice.
"[It's] recognizing that every day, we change and our internal climate moves," he said. "That's why integrating meditation, dance, and reflection helps us to find our center. You can dance to release anxiety. You can sing to disarm fear. You can breathe to the beat of an instrument and transform your anger into creative energy."
While we've made significant progress when it comes to normalizing discussions surrounding mental health and therapy in our communities, we still have a long way to go. While this generation is embracing important dialogues and incorporating wellness practices into their daily lives, older generations of Latinxs that include many of our parents and grandparents still often associate mental health issues and having to seek out help with being weak or "loco/loca." Balvin has really made it a point to dispel misinformation and stigma for Latinx communities. Over the years, we have been witnessing more and more Latinx celebs take up the cause, including Selena Gomez, who recently released her documentary on living with bipolar disorder, "My Mind & Me." In her own show of bravery, Carla Morrison recently shared how anxiety and depression almost made her consider leaving the music industry.
"The reason why I started talking about mental health is because I suffer from mental health. I think we all suffer from mental health," Balvin tells POPSUGAR. "When I started suffering from anxiety and depression, I didn't know what I had until I found the right doctor, a psychiatrist that told me that I suffer from this. I started taking medication, and I started feeling better, and it changed my mindset because I used to think that going to see a doctor or a shrink was for crazy people."
Balvin explains that his shift in perspective happened once he started to understand that prioritizing his mental health was just as important as prioritizing his physical health.
"The way you might have problems with your blood pressure and might need medication, you might also need to take medication for your brain," he says. "I felt that I needed to speak out and tell my story, and that comes with a lot of risks because people could stigmatize me and say, 'Oh Balvin. That depressed guy.' But by taking that risk, I can also cause change, and that's why I speak out."
Balvin wants our communities to normalize discussions of mental health and illness so that people can get and find the support they need. "We have to make it as common as everything else," he says. "I think it's an inclusion situation because some people are still afraid to talk about this because others might think they're crazy. But it's not crazy. What's crazy is that there are people that still don't understand that we really need that help."
Music will always be a part of Balvin's life and career, but he also shares that it's a tool he uses to get the bigger messages across. He believes that part of his purpose is being of service to others and doing his best to not only destigmatize and normalize mental illness for Latinx communities but also make it accessible. That's the mission behind Oye, in short.
"We wanted to make it fun so that you can interact with it," he adds. "There's a lot of people that have a hard time expressing their feelings with others, especially when it comes to mental health. We understand that, so we want people to feel confident with this app and in taking care of themselves."
Source: Read Full Article