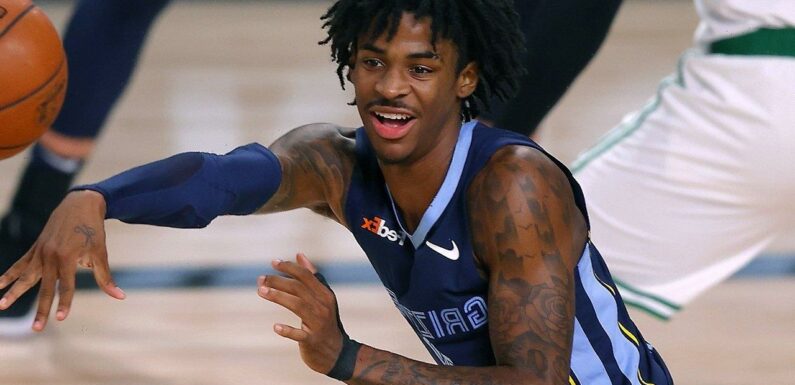 The Memphis Grizzlies player sparks controversy after he went on Instagram Live and flashed a weapon while he's at a strip club Shotgun Willies in Colorado.
AceShowbiz –Ja Morant is seemingly trying to fix things. If a new report is to be believed, the Memphis Grizzlies player is going to rehab to get himself cleaned up from excess alcohol intake, especially Hennessy and luxurious tequilas.
Reports claimed that the 23-year-old basketballer has always been an alcoholic, but this year has been adverse. It's also said that he wants to use the suspension period to get himself cleaned.
Morant was suspended by the Grizzlies after he went on Instagram Live early Saturday morning and flashed a gun while he was at a strip club Shotgun Willies in Colorado. He was initially suspended for two games but recently, the team announced that he "will continue to remain away from the team for at least the next four games."
The latest suspension news came after the Glendale (Co.) Police investigated the incident and announced that "there was not enough available evidence to charge anyone with a crime." Law enforcement confirmed the incident took place during "lawful operating hours."
"GPD was not able to determine that probable cause existed for the filing of any charges," the department said in a release. "In this case, it should be noted that on the night in question the GPD did not receive any calls for service at the nightclub regarding a weapon of any type."
"Subsequently, no disturbances were reported, and no citizens or patrons of the club came forward to make a complaint," the release continued. "The investigation also concluded that no one was threatened or menaced with the firearm and in fact no firearm was ever located."
In his statement, Morant stressed that he'll "take full responsibility for [his] actions." The star guard went on adding, "I'm sorry to my family, teammates, coaches, fans, partners, the city of Memphis and the entire Grizzlies organization for letting you down. I'm going to take some time away to get help and work on learning better methods of dealing with stress and my overall well-being."
Reacting to the case was NBA legend Shaquille O'Neal, who sent message to Morant and warned him not to act like "a rapper." O'Neal said, "You don't go live, nobody knows he has a weapon. But he did that."
"We have to stop putting ourselves in positions where they can take away the things that we worked hard for," the 51-year-old basketball star added, "You got to have enough common sense to know that wasn't going to go how you wanted it to go. You're not a rapper. You're an NBA player."
You can share this post!
Source: Read Full Article