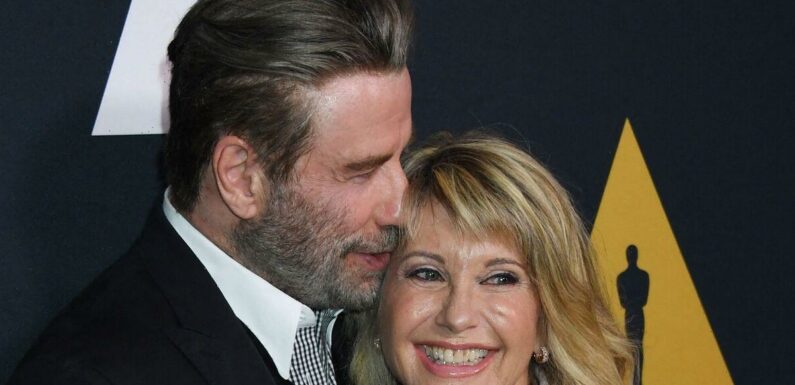 Olivia Newton-John's niece says she'll keep star's legacy alive
We use your sign-up to provide content in ways you've consented to and to improve our understanding of you. This may include adverts from us and 3rd parties based on our understanding. You can unsubscribe at any time. More info
John Travolta has taken to Instagram to share an emotional tribute to Olivia Newton-John on what would have been her 74th birthday. It comes after the Grease star heartbreakingly lost her battle with breast cancer last month, leading John to tell the singer he "loves her so much".
Happy birthday my Olivia

John Travolta
In view of his 4.5 million followers, actor John shared a sweet snap of him and Olivia on the set of Grease.
The duo played Sandy and Danny in the 1978 film, Grease.
He wrote: "Happy birthday my Olivia."
In the picture, Olivia could be seen smiling at John as he gazed adoringly at the actress.
Following the news that the Hollywood legend had lost her battle with breast cancer last month, John took to Instagram to leave an emotional tribute.
Alongside a snap of a young-looking Olivia, the actor penned: "My dearest Olivia, you made all of our lives so much better.
"Your impact was incredible. I love you so much.
He went on: "We will see you down the road and we will all be together again.
View this post on Instagram

A post shared by John Travolta (@johntravolta)
"Yours from the first moment I saw you and forever!
"Your Danny, your John!" he ended his post.
At the time, a statement from Olivia's official Facebook page read: "Dame Olivia Newton-John (73) passed away peacefully at her Ranch in Southern California this morning, surrounded by family and friends.
"We ask that everyone please respect the family's privacy during this very difficult time."
"Olivia has been a symbol of triumphs and hope for over 30 years sharing her journey with breast cancer.
"Her healing inspiration and pioneering experience with plant medicine continues with the Olivia Newton-John Foundation Fund, dedicated to researching plant medicine and cancer.
"In lieu of flowers, the family asks that any donations be made in her memory to the Olivia Newton-John Foundation Fund (ONJFoundationFund.org)."
Dame Olivia was first diagnosed with breast cancer in 1992 and received her diagnosis the same weekend her father died.
She became a spokeswoman for the illness, raising money for charities and even opening her own cancer and wellness research centre in Australia.
Her efforts in the field were recognised by the Queen, who appointed her a Dame in 2020 New Year's Honours list.
In May 2017, it was announced Olivia's cancer had returned and metastasized to her lower back, spreading to her bones and progressing to stage four.
Her back pains had initially been misdiagnosed as sciatica.
The star later revealed this was actually her third bout with breast cancer, as she had privately battled a recurrence of the disease in 2013, in addition to her initial 1992 battle.
Source: Read Full Article