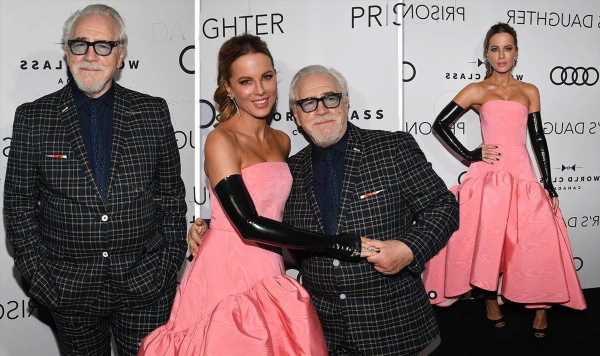 Brian looks adoringly at the actress as she smiles at the camera
Brian, who has won numerous awards for his acting, looked lovingly at Kate as her affection was reciprocated. The actor looked dashing in a plaid suit, navy blue shirt and navy patterned tie.
We use your sign-up to provide content in ways you've consented to and to improve our understanding of you. This may include adverts from us and 3rd parties based on our understanding. You can unsubscribe at any time. More info
In preparation for the 2022 Toronto International Film Festival, which took place on Wednesday, September 14, Brian Cox and 49-year-old Kate Beckinsale were pictured messing around while dressed in their finery.
Sat on a posh couch, the pair looked and laughed at each other as Kate laid across the Succession actor while he clung to her arm and put the other hand on one of her feet.
Posted on her Instagram account, which has 5.5 million followers, Kate captioned the montage of images: "There are about fifteen people I'd say are my favourite people in the world and @coxusa is so mighty he's at least two of them. Here we are hating each other at @tiff_net for our film #prisonersdaughter."
The pair's new film is centred on a terminally ill former convict whose violent past comes back to haunt him while he attempts to reconnect with his daughter and grandson.
In addition to Kate and Brian, the movie stars Tyson Ritter, Jon Huertas and Ernie Hudson.
Kate describes Brian as "mighty" as the pair get close on a sofa
Dressed up for the premiere of their film, Kate dressed in an eye-catching strapless pink dress paired with two spandex fingerless gloves and black stiletto heels. The star added even more glamour to her billowing dress with her hair swept up in a bouncy '60s-style ponytail and dangly earrings.
Brian clutched the actress whilst on the red carpet
When at the premiere of their film, which was shown at the Toronto International Film Festival, Brian put his hands on the actress who towered over him in height due to her pair of black heels. The pair posed for cameras, with Kate putting her arm around the actor's shoulders, showcasing her rings and black nail polish.
'Here we are hating each other' Kate jests with a gushy Instagram caption
Posting the four pictures of her and Brian on her Instagram, Kate joked that the pair "hated" each other in the caption. The ironic caption was met with love from fans in the comments, who also shared love for Brian.
Actress and model Jodie Smith commented: "I love him soooooo much!!!! Send brian my love please!!!!!" (sic)
The pair shared an embrace on the red carpet
Sharing their admiration for each other, Brian and Kate shared a hug at the post-premiere party hosted by Diageo World Class Canada and Audi. Kate closed her eyes while she hugged the actor, showing her appreciation even more.
Kate and Brian share chemistry on and off screen
Having portrayed a father and daughter relationship within the film, Kate and Brian have a similar relationship off-screen.
Brian and Kate pose with actor Christopher Convery
Posing with the young actor Christopher Convery, 14, who appears in the film with Kate and Brian, the pair wrap their arms around each other. Posting a picture of him and Brain on his Instagram page, Christopher wrote: "What a night celebrating with Brian Cox #prisonersdaughter."
Source: Read Full Article