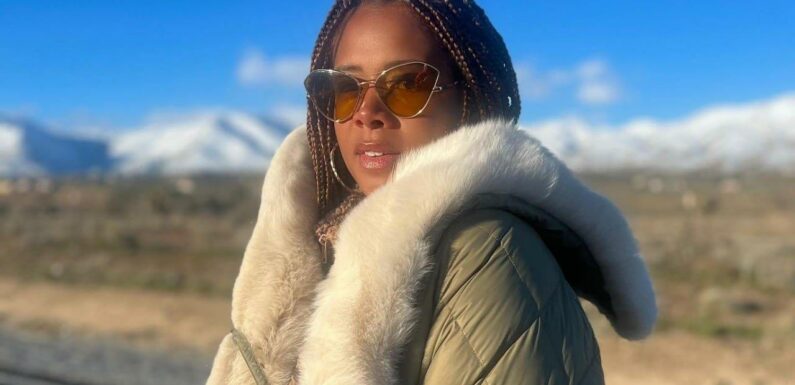 The 'Caught out There' singer is grateful as they escaped death after they were rescued when her truck was dangling over a precipice while taking her kids to experience snow in California's first blizzard storm since 1989.
AceShowbiz –Kelis and her children escaped death after they "almost fell off a cliff." The "Caught out There" singer, who is a mum to three kids, stated in a video she shared on her Instagram on Sunday, February 27 about the potentially fatal accident during California's weekend snowstorm which they were involved in.
She said in her footage, which showed her vehicle dangling over a precipice, "My truck got stuck… it's, like, hanging." Adding about how they were rescued, she went on, "Praise God the tow truck actually made it. We've been outside for awhile."
While showing off the snowboarding gear she was wearing, which Kelis, born Kelis Rogers, called "ridiculous fashion," she added, "I'm wearing layers to keep warm. I've got my light on, thank God, because it's pitch black out here. Silver boots… a little reflective action. Things could be worse."
Kelis added in a caption on the video she had planned to take her kids to experience snow in California's first blizzard storm since 1989, despite warnings not to venture out. The 32-year-old star had son Knight, now 13, in 2009 with ex-husband Nas, 49, and welcomed another boy, Shepherd, seven, with her second husband Mike Mora, who she married in 2014, along with a daughter, Galilee, two.
Kelis said it was "freaking awful" when singer Mike, 37, died in March last year after he lost a battle with stage 4 stomach cancer. She said in a statement in September about his death, "It wasn't something that was sudden. We were able to prepare, and love, and say goodbye. It's freaking awful, but I am grateful."
You can share this post!
Source: Read Full Article