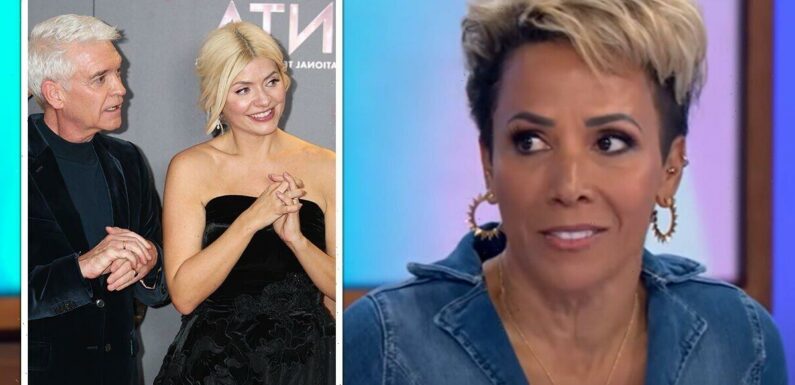 Dame Kelly Holmes takes part in BFBS Forces Fit campaign
We use your sign-up to provide content in ways you've consented to and to improve our understanding of you. This may include adverts from us and 3rd parties based on our understanding. You can unsubscribe at any time. More info
Dame Kelly Holmes claimed Holly Willoughby and Phillip Schofield were just "taking an opportunity" during Queen Elizabeth's lying-in-state. The miles-long queue saw many waiting hours to pay their respects to the Queen in September, while the ITV presenters were accused of skipping the wait. They have since explained that they were given access to the hall purely for work.
Dame Kelly, 52, is one of the newest panellists to join Loose Women, arriving in September.
One of her first appearances on the show saw the former Olympian revisiting her mammoth wait to get into Westminster Hall.
After waiting for 11 hours, she revealed that she made an elderly friend in the queue and told Attitude magazine awards last week: "My queue buddy was beautiful John, who is 90 years old, who had served.
"We bonded, I'm speaking with him and his daughter still now, he's sending me pictures of when he served, he is going to come on Loose Women."
Kelly queued outside Westminster Hall the weekend before Queen Elizabeth's state funeral after coming down for Liverpool.
She shared: "It was the best experience. I was in Liverpool and it was coming up to the last day I could queue and I felt compelled to do it, it was now or never.
"So I changed all my arrangements for the weekend and I got on the train at 7am and I came down and I queued for 11 hours."
The 52-year-old explained that she doesn't have enough insight to make a fully formed opinion on the queue-gate saga, but said that it seemed the presenters were "just taking an opportunity".
She added: "To be honest with you it's such a hard position to be in because, of course, I don't know their story enough to know what the reasons were for not queuing or getting in.
"But I suppose if you were given an opportunity and you came out and say, 'We had no time to do it, we've been given an opportunity'.
"Then they were just taking that opportunity, otherwise they would never get to do it."
Loose Women also aired directly after This Morning, when Holly and Phil addressed the backlash their appearance at Westminster Hall had caused.
When footage of them in the Hall emerged last month, many were riled and called on the presenters to explain what happened.
Returning to the ITV show, Holly explained on This Morning that the duo had "official permission" to skip the queue like many members of the media and public figures.
She added that it was "strictly for the purpose of reporting" and claimed, "we would never jump a queue".
In an official statement, This Morning noted they had not taken anyone's place in the queue and had been quickly escorted past the coffin to a designated media area in the hall.
At the National Television Awards last week there was a smattering of boos and an evident icy atmosphere as Holly and Phil went on stage with the rest of the cast and crew of This Morning as they won Best Daytime Show.
On the chat show the following day, Dame Kelly admitted she had to hide her head "and swear a little bit" when Loose Women lost to This Morning and emphasised that she had "nothing against This Morning" but as a gold medalist, she had become somewhat used to winning.
Source: Read Full Article