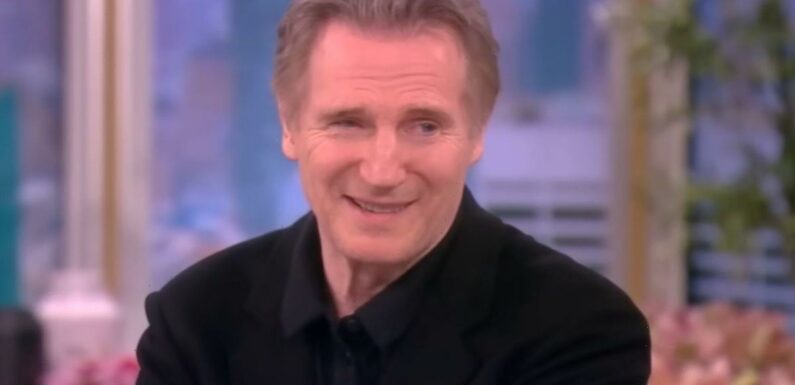 Liam Neeson gives The View hosts Valentine's Day cards
We use your sign-up to provide content in ways you've consented to and to improve our understanding of you. This may include adverts from us and 3rd parties based on our understanding. You can unsubscribe at any time. More info
Liam Neeson, 70, revealed he was embarrassed during his recent appearance on the talk show as he was promoting his 100th film, Marlowe. The actor declared he "wasn't impressed" with how the conversation derailed as one of the hosts admitted she had a crush on him and requested extra hearts to be drawn on her Valentine's Day card.
The Irish star appeared on live chat show The View last week with hosts Alyssa Griffin, Sunny Hostin, Joy Behar, Sara Haines, Whoopi Goldberg and Ana Navarro.
The ABC show is no stranger to a range of topics, views and debates, but Liam claimed he was quite disappointed by the way his interview was consistently sidelined by a crush.
Just after Liam walked on stage it became clear that comedian Joy Behar had a history with the actor as she noted: "We talk about you so much I feel like you've been here."
Ana Navarro quickly corrected her colleague saying: "YOU talk about him so much."
Alyssa Griffin also chimed in, joking: "Joy wants to get Taken by you" while Joy recited some iconic lines from the film Taken.
Liam seemed somewhat uncomfortable, and more moments like this would crop up throughout the short segment.
In a new conversation with Rolling Stone earlier this week, the actor admitted he found the whole interview "embarrassing" and revealed he has actually known Joy for "a little bit".
He recalled sitting in The View dressing room "drinking a cup of tea" as he watched the segments before him.
The actor began getting more and more excited for his interview as the women delved into hard-hitting topics like "gun violence in America".
However, he shared his disappointment: "I go onstage and join the ladies during the break, and I was congratulating them on this discussion.
"Then our segment starts and it's just all this BS with Joy and Liam Neeson and having a crush.
"I just wasn't impressed."
Liam noted he was "uncomfortable" throughout the interview, and was saddened when one of his most interesting chats of the day happened off camera.
He added: "One of the ladies (Sunny Hostin) is a prosecutor and we had a little chat afterward and it was a good, intelligent conversation, but then the segment's all about this — oof —thirteen, fourteen-year-old crush.
"It's just a bit embarrassing."
After the initial crush admission, Joy revealed that she had received a "belated" Valentine's Day card from the actor, and was disappointed when she realised all of her colleagues had been sent one too.
Sunny Hostin teased her colleague saying: "Well he wrote something very special on mine."
Ana chimed in again, thrusting a marker and her card in Liam's direction and demanding: "Another heart please."
Joy quickly slid her own card over to the actor, trying to get the upper hand as she added: "Draw two hearts for me."
Liam jokingly muttered "I can't win" as he diligently did as he was told.
Later in the program, they revealed a short compilation of Joy's Liam Neeson references over the years, including the comedian admitting: "I would just like to have my ashes sprinkled over Liam Neeson."
Source: Read Full Article