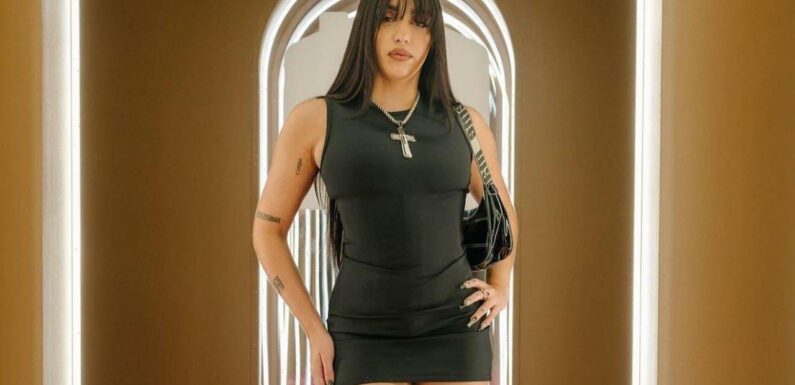 The eldest daughter of the Queen of Pop is refused entry to the catwalk show in New York City as she shows up 'fashionably late' in a busty denim ensemble.
AceShowbiz –Madonna's daughter Lourdes Leon has landed in hot water. The eldest child of the Queen of Pop has been criticized after she's denied entry at a Marc Jacobs fashion show in New York City.
The 26-year-old model reportedly arrived for the fashion show at exactly 6 P.M., right when the show began, on Thursday night, February 2. She dressed in a busty denim ensemble complete with a torn-up matching coat. Accessorizing with a denim handbag, she donned a pair of stiletto boots.
TikTok user @mickmicknyc shared a video of the moment. "Drama outside the #marcjacobs fashion show as #lourdes wasn't allowed in after arriving exactly as the show started," he captioned the footage.
In the clip, Lourdes and a friend could be seen standing on the steps of the entrance while several security guards blocked them from entering the venue. She was informed that the doors were closed as the show had already started.
When fans standing outside the show realized what was happening, they started to shout "let her in" and tried informing the guards of her identity, with one asking the guards, "You don't know who she is?" However, it didn't appear to have worked.
Upon learning of the news, social media critics were quick to call Lolahol out. "Just like her mother, who keeps fans waiting for HOURS after her show is supposed to start. So the apple doesn't fall far from the tree!!" one person commented. A separate critic penned, "Ha ha- she thinks she's all that and was shown differently. Be respectful- show up on time! No one waits for you Lourdes."
"Looks like she's never been sober a day in her life," someone else chimed in, with a different social media user sarcastically saying, "Lol!!! I have a new found respect for Marc Jacobs."
Others, meanwhile, criticized Lourdes' choice of clothes. "Hey Lourdes, note to self, don't show up 'fashionably late' to the fashion show next time," one penned, while another posted, "She has the most horrifically bad taste." Someone remarked, "yikes! That was embarrassing. lol BTW, Lourdes needs a stylist, stat!"
You can share this post!
Source: Read Full Article