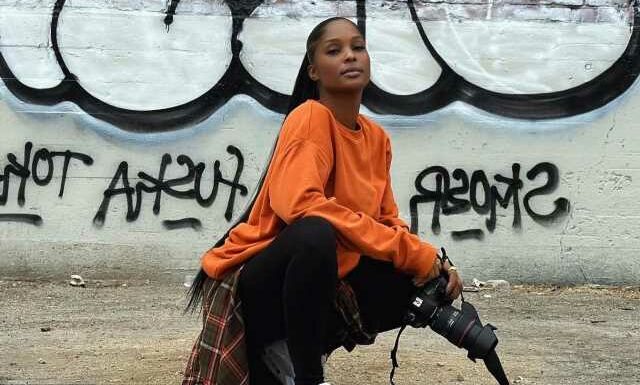 Speaking out after rumors swirl that she may be having a bun in the oven, the former 'Price Is Right' model claps back at body shamers who don't let her 'at peace with not losing her baby weight.'
AceShowbiz -While her baby daddy Nick Cannon has been actively procreating, LaNisha Cole is not ready to expand her offspring just yet. The model has shut down pregnancy rumors after it's widely speculated that she might be expecting her second child.
The mother of one took to her Instagram Stories on Thursday, February 2 to address the pregnancy speculation. "No, I'm not pregnant again," she wrote over a plain black background. Clapping back at body shamers, she added, "You guys are so used to SnapBack culture that you can't let a woman be at peace with not losing her baby weight in a week."
LaNisha continued, "My body is bigger and I'm not in any rush to lose the weight. It'll come off in due time. Until then there's just more of me to love lol."
In a subsequent selfie-style video, the 40-year-old admitted that she's "thicker in the face" and "thicker in the waist." She also wrote along with the clip, "As a new mom I have so many other things that are more of a priority for me. Empress Onyx has been ruling my life and I'm ok with it. She's the boss of me. I'll work out again when she allows me to."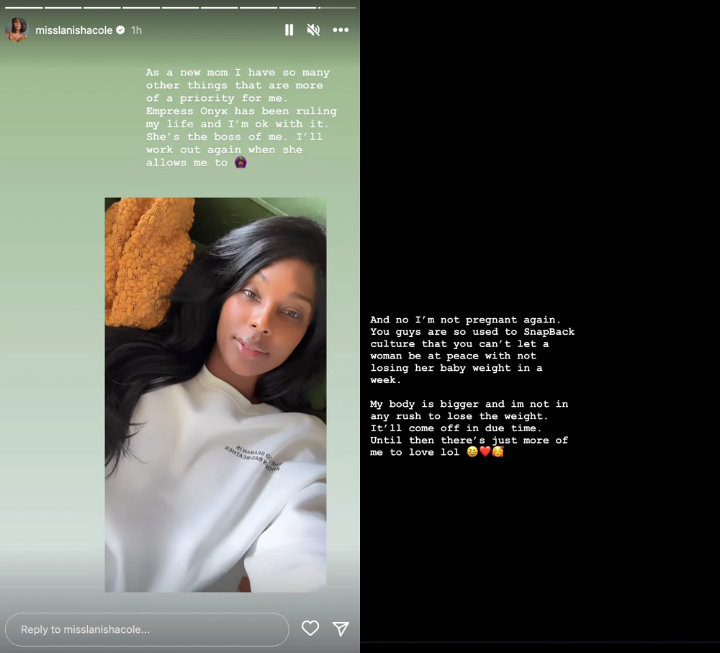 LaNisha Cole addressed pregnancy rumors.
LaNisha and Nick welcomed their daughter Onyx Ice Cole Cannon on September 14, 2022. While it's her first child, the actor/singer has 11 other children with five different baby mamas.
In December, LaNisha appeared to diss Nick with a cryptic post about "fake IG photo op." Later in the same month, she shared a cryptic post about "leaving toxic relationships."
"Yes I've made mistakes," she admitted in a follow-up post. "Yes I've put myself through unnecessary pain and heartbreak (which we've all done in the name of love. You have too!) But I'm choosing to do better. Calling me baby mama #538 every time I say the sky is blue is uncalled for and it's getting old."
The former "The Price Is Right" model continued firing back at critics, "I get it. My life plays out publicly but there's a lot you don't see. There's always so much more I want to say but this isn't the time. I wouldn't change a single thing about my journey because I'm in a beautiful place now and everything has to happen the way it did for me to get here."
You can share this post!
Source: Read Full Article