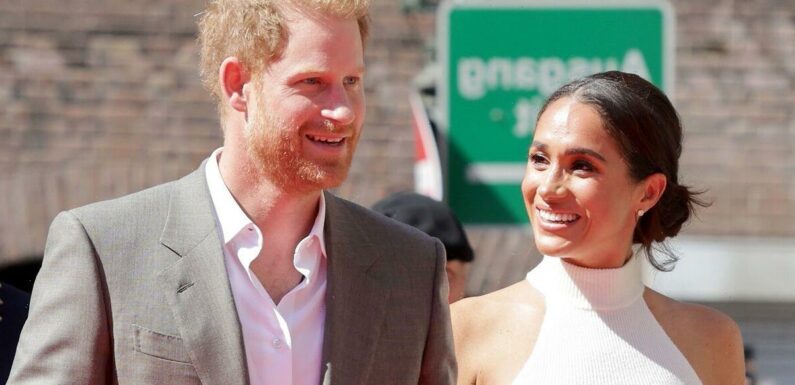 Meghan Markle looks distraught outside of St George's chapel
We use your sign-up to provide content in ways you've consented to and to improve our understanding of you. This may include adverts from us and 3rd parties based on our understanding. You can unsubscribe at any time. More info
Jennifer Aniston, 53, is said to be moving to Montecito, where Prince Harry, 38, and Meghan Markle, 41, live and she is reportedly keen to strike up a friendship with the royals. According to a source, the actress is "a big fan" of the pair and has heard "wonderful things" about them.
The source added to Heat Magazine: "Jen and Meghan are both really excited to see each other and see if they can build a meaningful friendship."
They went on to say the couple are also "huge fans" of the Friends star and would be "starstruck" if they met her.
"As dog lovers they'll be able to take relaxing walks on the beach, and maybe do some wine tasting – it's going to be an absolute blast and they cannot wait."
The Sussexes reside in the area of Montecito, Santa Barbara.
They moved from London to Meghan's home country back in 2020 after leaving the royal family.
Harry previously told the Today show: "Home for me now is, for the time being, it's in the States.
"And it really feels that way as well.
"We've been welcomed with open arms and we've got such a great community up in Santa Barbara."
Last week, a report claimed that Jennifer had bought Oprah Winfrey's Montecito farmhouse for $14.8 million.
It is said she will enjoy the property's lawns, well-kept gardens, terraces for entertaining guests and numerous mature oak trees.
The actress is also the owner of a $20.97 million Bel Air mansion.
Harry and Meghan are said to be back in the United States following the Queen's funeral on Monday.
DON'T MISS…
Sharon Osbourne says Ozzy forced to leave family home [REVEALED]
Amanda Holden, 51, accidentally exposes underwear in sheer blouse [PICTURED]
Hugh Grant left 'sobbing' as Queen's beloved pony attends funeral [REACTION]
They reportedly flew from Heathrow on Tuesday after being away from their children for 17 days.
The couple stayed in the UK longer than expected following the Queen's death aged 96.
The Duke and Duchess of Sussex joined the newly appointed Prince and Princess of Wales in addressing mourners outside Windsor following the news.
Social media users were pleased to see the "fab four" together again after reports of a rift.
They were seen together again at the funeral, where they walked behind the Queen's four children, King Charles III, Prince Andrew, Princess Anne and Prince Edward.
Britain's longest reigning monarch was buried in the King George VI Memorial Chapel in St George's chapel, Windsor Castle.
The small ceremony was attended by close family following the public state funeral.
Her Majesty's death was announced hours after Buckingham Palace revealed she was under medical supervision from doctors on September 8.
Source: Read Full Article