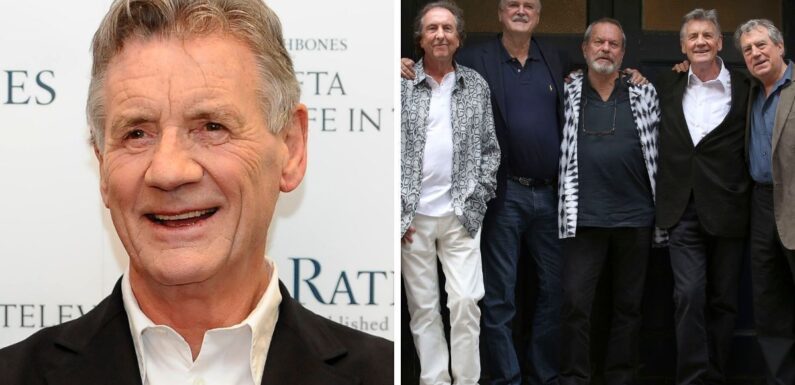 Sir Michael Palin has revealed that he doesn't keep in contact "very often" with his fellow co-stars from the comedy troupe Monty Python.
The 80-year-old is one of four surviving members of the British comedy group, who are best known for their BBC sketch series and film projects such as Monty Python and the Holy Grail.
Speaking to Radio Times, Michael discussed that they haven't stayed in touch except for when his late wife passed away.
"No, we don't speak to each other very often. There's no ex-Pythons WhatsApp group or anything," Michael said.
"But we are in touch, and their reactions to Helen's death, from all of them, were very touching, very immediate and very sincere. I really appreciated that."
READ MORE: Ben Shephard warned to be on 'best behaviour' as he hosts This Morning
Michael's wife tragically passed away earlier this year after suffering kidney failure and chronic pain.
The pair had been married for 57 years and first met when they were both 16 years old.
They had three children together and four grandchildren.
The Monty Python group was formed in 1969 and consisted of Michael alongside John Cleese, Eric Idle, Terry Gilliam, Graham Chapman and Terry Jones.
There are currently only four surviving members remaining, and Michael has remained optimistic about enjoying the rest of his life after undergoing cardiac surgery two years ago.
Don't miss…
Big Brother fans fume at show change as they accuse bosses of 'dumbing it down'[LATEST]
Richard Madeley reveals he was almost shot by police officer in 'nasty' moment[INTERVIEW]
ITV forced to apologise for foul-mouthed rugby interview after England blunder[LATEST]
We use your sign-up to provide content in ways you've consented to and to improve our understanding of you. This may include adverts from us and 3rd parties based on our understanding. You can unsubscribe at any time. More info
He added: "Well, I still love doing the things I love. I still find I'm able to get up and go out into the world. And there's still so much to do, so much to see, so many people to meet.
"I'm very fortunate."
Following his Monty Python days, Michael has also enjoyed a successful career as television presenter.
He spent the last four decades travelling the world, from war-torn countries such as Iraq, to trekking through the Sahara Desert.
Michael has received numerous awards including a BAFTA Fellowship Award in 2013 and was knighted by the late Queen Elizabeth II in 2019.
Source: Read Full Article