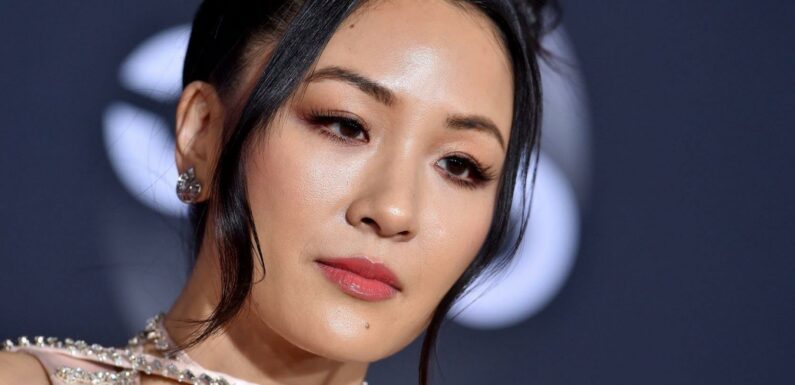 Written by Amy Beecham
The Crazy Rich Asians actor says the chapter in her memoir, Making A Scene, that covered her alleged sexual harassment was hard, but important, for her to write.
Content note: this article contains references to sexual harassment, sexual assault and suicidal ideation.
Crazy Rich Asians and Hustlers actor Constance Wu has opened up about the emotional toll of publicly accusing an unnamed producer of her sitcom Fresh Off The Boat of sexual harassment.
In her newly released memoir, Making A Scene, the actor claimed she was "sexually harassed" and "intimidated and threatened a lot" by one of the show's producers, an Asian American man whom she did not name. The harassment, she says, included the producer asking her for "sexy selfies at night", making inappropriate comments when seeing pictures of her friends and an incident of unwanted touching over her jeans shorts.
However, in a series of interviews promoting her book, Wu expressed that she initially "didn't want to write" about what she had experienced while filming the first two seasons of the ABC show. 
"That was the last essay I wrote for the book, and only after being, like, pushed by my editor, like, 'You should write about this. This is what people want to hear,'" she told host Seth Meyers on Late Night With Seth Meyers.
Wu also shared that because the alleged incidents happened "before the #MeToo movement", she had feared that her claims wouldn't be taken seriously. "I was just like, 'Nobody's going to believe me,'" she said on Late Night. "I didn't know what to do."
Earlier this year, Wu revealed that she had attempted to take her own life after being severely bullied for a string of controversial tweets she shared in 2019. 
Following the news that Fresh Off The Boat, had been renewed for a sixth season, the actor tweeted:"So upset right now that I'm literally crying. Ugh. Fuck." She added, "Fucking hell," less than an hour after ABC made the announcement. And when a fan congratulated her on the renewal, calling it "great news," she replied, "No it's not."
Wu in ABC's Fresh Off The Boat
However, in a new preview for an episode of Jada Pinkett Smith's Facebook Watch series Red Table Talk, Wu became emotional as she explained: "People were basically cancelling me for being ungrateful and ungraceful… They were saying I didn't think of the other people's jobs on the show, how selfish that was and how I was, like, behaving like a diva."
Starting to cry, Wu continues: "What people didn't realise was that during my first couple of years on Fresh Off The Boat, I was sexually harassed, and I was intimidated, and I was threatened all the time.
"This producer, he is an Asian American, but because this show was sort of a beacon of representation for Asian Americans, and I, sort of, became a symbol of representation, I didn't want to sully the one show with sexual harassment claims against the one Asian American man who was doing all this better work for the community."
Later in the book, Wu reflects on a time when she was allegedly raped by a different man on a date years earlier. Wu writes that she told the man she was not ready for sex but said that it didn't stop him. "I didn't even realise it was rape," she told Good Morning America in an interview. "But rape is having sex with somebody who does not consent.
"I didn't fight back because, first of all, he's twice my size, we are in his apartment [and] he was being tender in the moment," she said, adding that her thought at the time was if she were to fight back that he "might suddenly turn violent".
Wu shared that she was "afraid of making a scene" and "being the uncool girl" and that she ultimately "just gave up", adding that it took her a decade to look back on this alleged experience and identify it as rape.
"It took me a really long time to even say the R-word," she said. "It felt way too dramatic and out of control for something that had been so quiet."
If you have been a victim of sexual assault or another gender-based crime, find advice and support at endviolenceagainstwomen.org.uk. For free and confidential legal advice, contact Rights Of Women's telephone advice line.

If you're worried about your mental health, you can contact Mind or Samaritans. 
Images: Getty
Source: Read Full Article