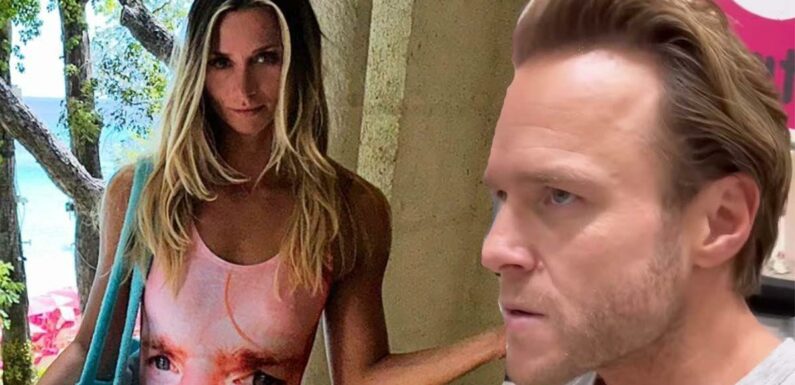 Olly Murs teams up with Virgin Media O2 to surprise a customer
We use your sign-up to provide content in ways you've consented to and to improve our understanding of you. This may include adverts from us and 3rd parties based on our understanding. You can unsubscribe at any time. More info
Olly Murs, 38, came under fire earlier today over the "disturbing" choice of swimwear he gifted his fiancée, Amelia Tank, 30. The couple have been enjoying a sun-soaked getaway in Barbados ahead of their wedding.
Sharing an insight into their holiday, Olly showed his Instagram followers the new swimsuit he had designed for Amelia.
The one piece swimwear featured a picture of his face all over the torso, something some fans were left unimpressed by.
Olly captioned the snap: "Oh plus on holiday I got Amelia a new beach outfit! Something low profile… think she loved it."
Amelia appeared to be in on the joke, replying: "You just wait and see what you're getting for your birthday this year."
However, other fans rushed to the comments' section to question the bizarre choice.
Beastboy_ad_786 said: "Bro ur getting Corny post by post." (Sic)
Amsie7 commented: "With that body she can rock anything even your disturbing choices."
Bethynicolexo added: "I am honestly speechless."
As well as the unconventional choice of swimwear, Amelia was modelling a pair of fish slippers and a blue tote bag.
The post comes after Olly's new album Marry Me has sparked controversy as fans have called for one song, in particular, to be taken off air completely.
Olly's song, I Hate You When You're Drunk, left some listeners outraged, with one fan believing they knew what his fiancée's reaction song would be titled.
As the title suggests, the track focuses on the behaviour of boozy loved ones and some have called for the song to be taken off air completely due to some lyrics.
One fan on Twitter screenshotted a section of lyrics, slamming it as "pretty gross".
The lyrics read: "Oh you got them drunken eyes / Should we call it a night / Cos you've been telling stories four/five times / Yeah I've heard it before and my ears are bleeding. / Oh it's funny how you won't remember anything / But baby I'mma love you all the same / Cos I'll pick you up, when you do it all again."
The lyrics were branded "cruel", "disgusting" and "abhorrent" by some on social media.
One even viciously slammed him as a "gaslighting, sexist, soggy digestive biscuit of a man" and called for BBC Radio Two to stop playing the song.
Another Twitter user, named Shaun, took aim at Olly's fiancée, who many assumed the song to be about.
He wrote: "Olly Murs is quite the sad, controlling boyfriend according to the lyrics of his new song, 'I Hate You When You're Drunk.' I look forward to her reply song 'I Hate You When You Sing'."
However, Amelia personally responded to the claims on her Instagram story, clapping back at Olly's critics.
She wrote: "Dear Shaun Keaveny, "Many thanks your concern here however I can confirm that I in fact love my *NON* controlling *FIANCE* even more when he sings and this latest single is actually one of my favourites from the album.
"I wouldn't lose any sleep over it bbz because I'm deffo not #justabitoffun. Lots of love and have a magical evening." (sic)
Source: Read Full Article