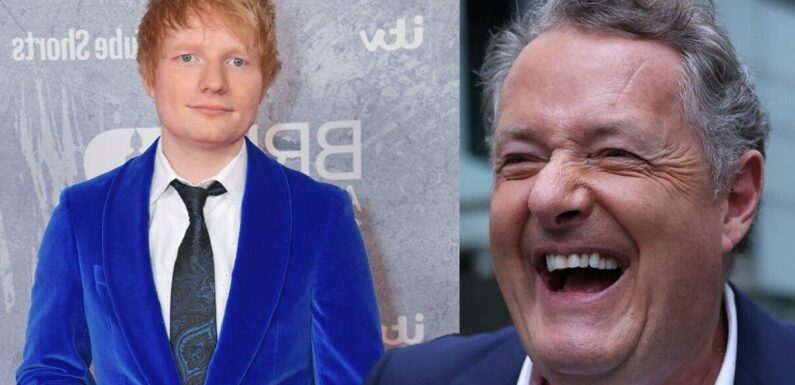 Ed Sheeran speaks out after winning copyright lawsuit
We use your sign-up to provide content in ways you've consented to and to improve our understanding of you. This may include adverts from us and 3rd parties based on our understanding. You can unsubscribe at any time. More info
Piers Morgan, 57, has taken to Twitter to issue a public apology to Ed Sheeran, 31, after the "abusive nonsense" that was targeted towards the singer on the TalkTV hosts account. According to reports, Piers' account had originally shared posts on Boxing Day, which contained false information, racial slurs and abusive messages directed at the late Queen.
By the way, apologies!

Piers Morgan
Piers has taken to Twitter today in view of his 8.3 million followers to apologise to Ed Sheeran after his account left rude comments directed towards the hit pop singer.
He wrote: "By the way, apologies for all the abusive nonsense posted on my feed after I was hacked (yes, yes, do your own jokes) on Boxing Day.
"In particular to @edsheeran who I think is a very gifted singer-songwriter with a fine head of hair, not a 'ginger p***k'."
According to reports, Piers' account in December shared posts containing false information, racial slurs and abusive messages directed at the late Queen.
It was then apparently wiped with no profile picture, banner image or posts visible.
Piers has used his Twitter return to unleash his opinion on Prince Harry's bombshell ITV interview with Tom Bradby which aired on Sunday night.
Discussing the interview, Piers penned: "Never seen an unhappier 'happy man' in my life.
He also said that Prince Harry had "finally admitted" there was "no racism" against his wife Meghan Markle, leaving Piers to believe he deserved his job at Good Morning Britain back.
The presenter dramatically exited Good Morning Britain back in March 2021 following an on-air spat about the Duchess of Sussex.
"Now he's finally admitted there was no racism, two questions: a) Do I get my old job back? b) Why should we believe a word they say?"
Piers also left a separate Twitter message questioning why the interviewees did not bring up Prince Harry's claim that he killed 25 Taliban fighters while he was in Afghanistan.
He wrote: "Why did neither Tom Bradby nor Anderson Cooper challenge Harry about his appalling Taliban kill boast?
In 2021, the Duchess of Sussex claimed that racist treatment she received while working as a senior member of the royal family left her feeling suicidal in a sit down interview with her husband in her headline-making interview with TV host Oprah Winfrey.
Questioning the credibility of Meghan's claims, Piers told 1.9 million Good Morning Britain viewers at the time: "I'm sorry, I don't believe a word she said, Meghan Markle. I wouldn't believe it if she read me a weather report."
His ITV co-star Alex Beresford went on to suggest during the show that Piers' response was due to him having some sort of personal vendetta against her.
When Piers furiously left the studio, Alex was heard saying: "This is pathetic. Absolutely diabolical behaviour."
You can watch Piers Morgan Uncensored tomorrow night on TalkTV.
Source: Read Full Article