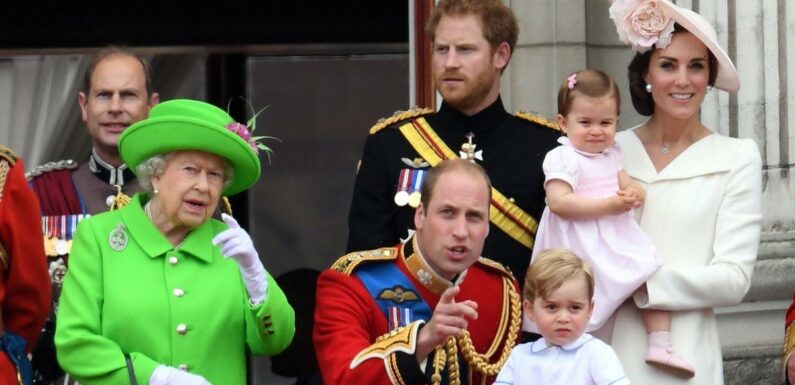 Prince Harry has expressed his concern over other "spares" in the royal family, namely the children of Prince William and Kate Middleton.
In an interview with The Telegraph, the Duke shared his worries that either Prince George, Princess Charlotte or Prince Louis will end up like him.
And despite his elder brother making it clear that the children are not their uncle's responsibility, Harry told the outlet that "knowing that out of those three children, at least one will end up like [him], the spare" hurts and worries him.
Prince William's eldest child Prince George is currently second in line to the throne, behind his father, with his younger siblings Princess Charlotte third, and Prince Louis fourth.
In his memoir, Spare, the Prince discussed his rather distant relationship with fellow "spare", his aunt, the late Princess Margaret.
Harry wrote that she was "almost a total stranger" to him – adding: "I was conversant with the general contours of her sad life. Great loves thwarted by the Palace. Exuberant streaks of self-destruction splashed across the tabloids. One hasty marriage, which looked doomed at the outset and ended up being even worse than expected.
He went on: "Growing up, I felt nothing for her, except a bit of pity and a lot of jumpiness. She could kill a houseplant with one scowl. Mostly, whenever she was around, I kept my distance."
Later in the book, the Duke explained a revelation he experienced as he grew older, writing: "It struck me that Aunt Margo and I should've been friends. We had so much in common. Two Spares."
Harry also opened up about how the label 'spare' has haunted him throughout his life, writing that he has always been aware that he was born in case something happened to his brother.
He wrote: "I was born into the world in case something happened to Willy."
He added this was made "abundantly clear" to him from a young age and was "regularly reinforced" throughout his life.
The Duke of Sussex went on to describe his life as a "mission to offer a source of distraction, entertainment and, in case of need, a spare part" – such as a kidney or bone marrow.
The Duke talked of how the idea of "heir" and "spare" had been reinforced throughout his life – claiming his parents and even grandparents referred to the brothers using those names as a form of "shorthand".
Harry then told an anecdote from when he was 20 and he heard a story about his father's "supposed words" to his mother, Princess Diana, on the day he was born.
King Charles is alleged to have said to his wife: "Wonderful! You have already given me an heir and a spare. I have done my job."
READ NEXT:
Click here for today's top showbiz news

Prince Philip of Serbia slams Prince Harry after Spare's release: 'He's making a lot of money'

Fergie's tribute to 'devoted friend' and 'sissy' Lisa Marie Presley after shock death aged 54

Kate Middleton says 'talking therapies don't work for everyone' amid Harry memoir fallout

For the latest royal news, sign up for OK!'s royal newsletter here
Source: Read Full Article