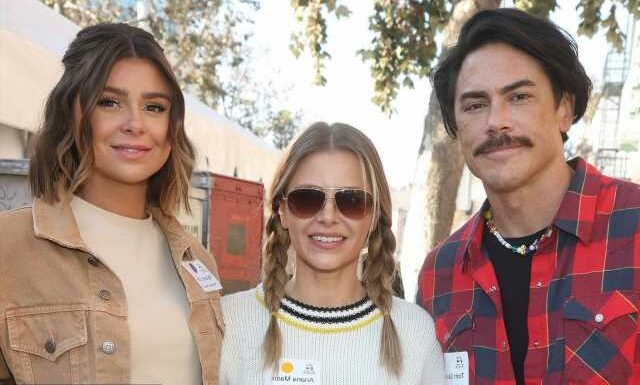 Making use of her Instagram account, the 37-year-old reality TV star finally addresses Tom and Raquel's months-long affair as she admits that it's the 'darkest' time of her life.
AceShowbiz –Ariana Madix has decided to speak out for the first time amid the drama involving her ex Tom Sandoval and Raquel Leviss. Making use of her Instagram account, the "Vanderpump Rules" star addresses their months-long affair and admits that it's the "darkest" time of her life.
"hi. where to begin?" the reality TV star wrote on Wednesday, March 15. "i want to express my most sincere gratitude for the outpouring of love and support i have received from friends, family, and people i've never even met in the last two weeks."
The 37-year-old Bravo personality added, "when i have felt like i couldn't even stand, you all have given me the strength to continue and seen me through my darkest hours. to say i have been devastated and broken is an understatement."
However, Ariana stressed that "i know that i am not in this alone. so many of my closest friends are also grieving this loss right now and reeling from this betrayal on so many levels." She concluded, "i am so f**king lucky to have the best support system in the world and i hope i can repay every single person for the love you have shown me. what doesn't kill me better run."
Ariana learned that Tom had been cheating on her with Raquel on March 1 when she saw an inappropriate message from Raquel on Tom's phone. A source previously claimed that Ariana found a video of Raquel masturbating on FaceTime with Tom.
Speaking in the Thursday, March 9 episode of "Sex, Love and What Else Matters", Kristen Doute shared that Ariana found out the affair when attending Tom's cover band's March 1 concert in West Hollywood, California. "I was actually with Ariana and Tom that night – we were watching his band play at TomTom," she recalled. "He's done playing, and we'd all gotten up to just kind of chatter and grab a drink."
"All of the sudden, I realize Ariana's gone for – it had to be like 20 minutes or something – because she left her coat and her purse," Kristen further elaborated. "So what had happened was, during Tom's performance, his phone fell out of his pocket, and a mutual friend of theirs picks up the phone and hands it to Ariana."
Kristen continued, "The real truth is that Ariana had his phone, and she told me that she just had this gut intuition to look at it." After seeing what was on the phone, Kristen said that Ariana was "not doing well," adding, "She's numb, and she's sad."
You can share this post!
Source: Read Full Article