One of Donald Trump's longest lasting liars is finally leaving.
On Thursday the Unindicted Co-Conspirator-In-Chief announced on his super official medium — Twitter — the exit of White House Press Secretary Sarah Huckabee Sanders.
Video: Even Fox News Called Out Sanders' Lies
Sanders has been with the Trump administration since the beginning, something the POTUS couldn't even acknowledge without his typical exaggeration:
"After 3 1/2 years, our wonderful Sarah Huckabee Sanders will be leaving the White House at the end of the month and going home to the Great State of Arkansas…."
Did you catch the error?
Yeah, Trump has been president for TWO and a half years. Not three.
But hey, if there wasn't at least one false statement in her sendoff it wouldn't feel appropriate, right?
Still, in an administration with a turnover rate like a college town Taco Bell, 29 months is practically a lifetime appointment.
Trump continued:
"….She is a very special person with extraordinary talents, who has done an incredible job! I hope she decides to run for Governor of Arkansas – she would be fantastic. Sarah, thank you for a job well done!"
Did we say one false statement?? LOLz!
Sanders started as Deputy Press Secretary under Sean Spicer. She notably stood in for him like a human shield after Trump's first major obstruction of justice controversy, the firing of FBI director James Comey, which Trump even admitted on TV was to stop the investigation into Russian election interference.
She impressed with her ability to tell bold-faced lies in the face of common sense, facts, video evidence, and her boss's consistently inconsistent statements.
Playing the Trump offended victim move became her bread and butter. She even once said with no hint of self awareness:
"I can definitively say the president is not a liar, and I think it's frankly insulting that question would be asked."
Astounding.
Fun fact: Sanders actually admitted she was a big ol' liar in her interview with Mueller's team.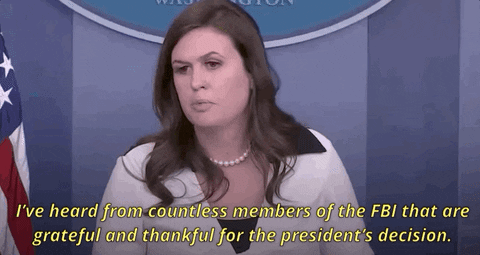 That lie should have been a fireable offense. But far from losing her job over it, she was PROMOTED!
Sanders weathered one of the biggest Presidential controversies ever with a solid wall of B.S. So following Spicer's retreat into the bushes, she dropped the Deputy and became the White House Press Secretary.
And under her tenure, the position has pretty much dissolved.
So much of Trump's administration has been about dismantling the U.S. government; from the EPA to the FCC, Trump has put in leaders whose entire philosophy was driven by profit over safety — and regulations only got in the way of that.
Srsly — haven't you wondered why you're getting so many more robocalls than ever before??
So of course his Press Secretary did away with the tradition of daily press briefings, in which reporters did their duty as Americans and held the administration accountable.
After countless clashes with reporters calling her on her B.S., the frequency of briefings dropped to less than one a month.
There hasn't even been a press briefing since March.
So no matter who replaces her, it's likely they will not face the same controversies — because there simply won't be anyone questioning them.
During an unrelated press conference, Trump brought up Sanders to say goodbye, and she appropriately gave us a few more falsehoods to remember her by…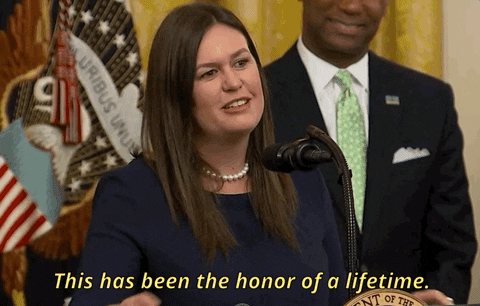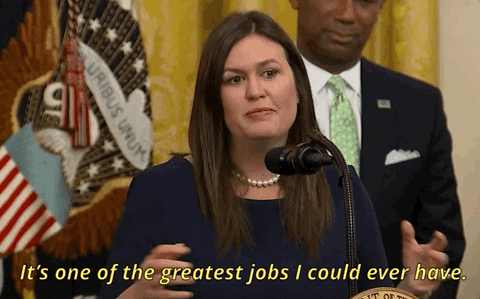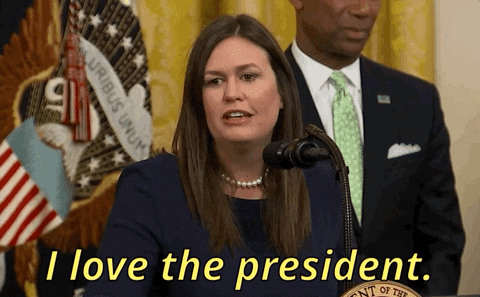 OK, we guess we buy that last one. Though it does make our faces involuntarily distort to think about.
Anyway, buh-bye, Sarah! We'd say it's been real, but y'know. That would be a lie.
Source: Read Full Article