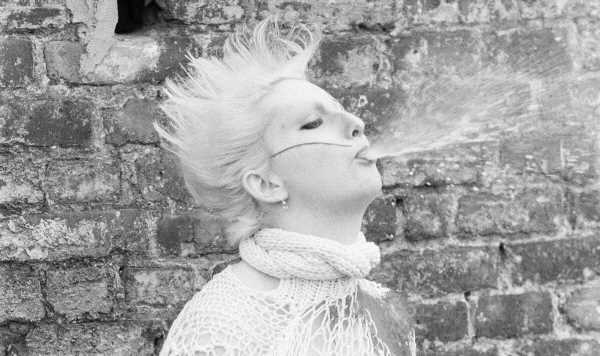 She was known as the "naked muse" of the Sex Pistols and would shock Sussex commuters by cramming her voluptuous figure into brazen outfits that left little to the imagination. But we can reveal that punk icon Jordan Mooney considered the band's name as ironic as there was a complete lack of carnal activity during their heyday.
Actress Maisie Williams says she felt liberated playing the former shop assistant in Danny Boyle's movie about the group, in which she was asked to film a topless bike scene.
But according to Jordan, flashing flesh in real life was just a cover for the very English prudishness of lead singer John Lydon and drug-addicted bass player Sid Vicious.
Only guitarist Steve Jones – whose memoir last year's Pistol film was based on – managed to get his leg over during their 1970s peak.
The claims emerged in a recently unearthed interview that coincides with the anniversary of Jordan's untimely death aged 66 on April 3 last year.
Speaking when the movie was still filming, Jordan said: "There might well be a lot of sex in Pistol because of Steve's life, but there won't be a lot of sex involving the rest of us.
"The truth is there wasn't much sex. I never saw John Lydon with anybody, I never saw him pull. He would make jokes about rather having a cup of tea than having sex. I never saw him touching or kissing anybody.
"The whole punk thing didn't have much to do with sex.
"It was about power and looking good and it probably paved the way for gender fluidity because there weren't any labels in those days. Sid was a very naïve person, young and sexually naïve.
"I don't think he was much interested in sex until his girlfriend Nancy opened his eyes to all that.
"He asked me to have sex with him once, saying, 'Give us a f***, Jordan.' I said, 'Oh, f*** off Sid, don't be so stupid.' I don't think he really meant it. He would have run a mile if I said yes.
"The Sex Pistols were the least likely to pick up any groupies at all because of how they looked. Sid was normally covered in blood by the end of the gig and drugs take away your libido.
"That was the great irony of them being called the Sex Pistols. I don't think there were any shenanigans going on except with Steve because he was a young man of the world."
Jordan was born Pamela Rooke in Seaford, East Sussex, and was working as a veterinary nurse in the same town when she sadly passed away from bile duct cancer.
She became a key figure on the punk scene when she worked at Vivienne Westwood and Malcolm McLaren's SEX boutique in West London in the mid-1970s.
Jordan, then 20, would regularly leave the house wearing rubber knickers and stilettos, or sheer skirts without underwear, much to the chagrin of her mother Linda.
She previously said of her daily, commute to the capital on British Rail: "People were apoplectic with rage. I had to be moved into first class for my own safety."
In the recently discovered interview, Jordan says singer Adam Ant, now 68, was the only musician man enough to make eyes at
her back then. She said: "People were too frightened of me and so no one came near. The only person that stepped up was Adam Ant because of his love of S&M art. I was the living embodiment of that, all rubber and high heels.
"Malcolm was the one who wanted to call the shop S*x because he was very interested in leather and rubber but I don't think he was particularly into s*x either.
"He was with Vivienne but their relationship didn't seem very sexual, not outwardly anyway."
Source: Read Full Article