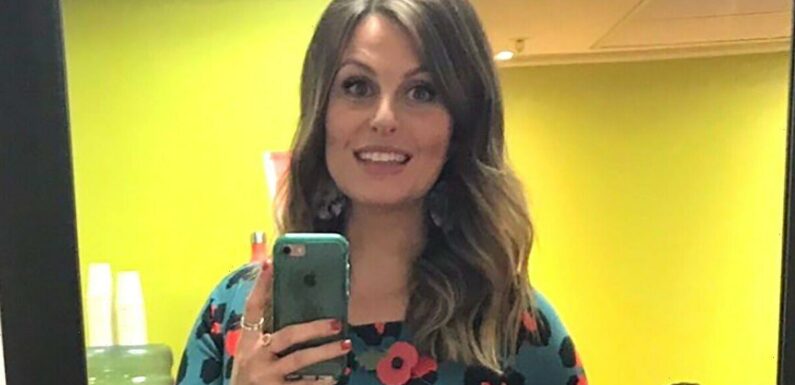 Strictly's Ellie Taylor in rare family insight as she gushes about husband: 'I get soppy!'
Comedian and actress Ellie Taylor, 38, gushed about her "flipping incredible" husband Phil Black. The Strictly Come Dancing contestant has been married to the Australian International reporter for CNN since 2014 and they share one daughter, Valentina, who was born in 2018.
We use your sign-up to provide content in ways you've consented to and to improve our understanding of you. This may include adverts from us and 3rd parties based on our understanding. You can unsubscribe at any time. More info
The comedian penned a heartfelt tribute to her husband on Instagram today, as she told her 206,000 followers: "Another early start for this lad.
"Just a public service announcement to say that my husband has been flipping incredible throughout this whole wild Strictly stint – sends me off with a packed lunch and a kiss as I leave him for days on end with a child and a sh*t load of washing.
"If you're looking for marriage material, he comes highly recommended, but sadly he is currently out of stock."
The Strictly star, who is coupled up with Johannes Radebe on the popular BBC One dance show, then went on to discuss her pregnancy and the new-found "strength" motherhood has given her.
Ellie Taylor, 38, was feeling loved up this morning as she shared a rare relationship insight
She talked about how husband Phil had been "incredible" and joked about him being "highly recommended marriage material".
Ellie Taylor shared a special picture of herself the day before her daughter was born
"Four years today I was having my last day of freedom before I went in to have my baby," she wrote. "Look at this cheerful, full faced, sleep rich soul. Pahahaha." (sic)
Ellie Taylor shared a throwback snap of herself posing in front of the mirror with her large belly
"Got the house all sorted didn't we, like a baby would be annoyed if it arrived and there wasn't pictures on the walls or suitable storage for duvets," she joked.
Ellie Taylor posted a picture of herself wearing her hospital gown about to have her baby girl
"And here I am awaiting my c-section with a lovely bit of foundation on and curled hair so I'd look nice in the photos. I regret nothing," she penned.
Ellie Taylor showed an adorable snap of herself kissing her baby's head, which was hidden by a mouse
"Always get a bit soppy around her birthday thinking about what a wonderful little tyrant she's grown into, but also I feel very loving towards that new mama I was," Ellie reflected, before later adding: "After feeling at points like I'd completely lost myself, I actually ended up with a stronger sense of self than ever before. And that's because of my littlest love. My ratbag," she added with a heart emoji.
Ellie Taylor revealed in the final image on her story that she was promoting a new book about parent
Her memoir, entitled My Child and Other Mistakes, is available from Amazon and other retailers now.
Source: Read Full Article