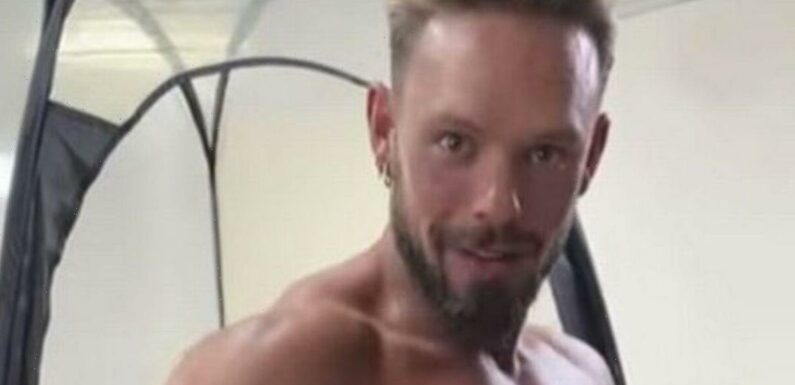 All you need to know ahead of the 2022 World Cup in Qatar
We use your sign-up to provide content in ways you've consented to and to improve our understanding of you. This may include adverts from us and 3rd parties based on our understanding. You can unsubscribe at any time. More info
Strictly's John Whaite, who is a passionate advocate for gay rights and has spoken on the thorny topic in the past, posted a topless photo of himself to draw attention to his political cause. The ballroom star stated that Qatar is set to profit by $17 billion from hosting the World Cup, but that he's unconvinced by the country's notoriously harsh attitude towards LGBT rights.
The 33-year-old flaunted his bare chest in a cover pic on Instagram, which he released to 305,000 followers.
He captioned the teaser photo: "If this picture has grabbed your attention, I urge you to swipe and read.
"Violations of human rights should not be endorsed (arguably funded) by organisations like FIFA."
Getting fired up over the situation, the dancer continued that he wanted to discuss the World Cup due to how "painful" the actions of this year's host country are to him.
READ NOW: Geena Davis reflects on Bill Murray pulling down her dress on live TV
"First of all, I'll give this a little financial context – Qatar is set to profit by about $17 billion from the World Cup," he began.
Then he challenged: "Is that acceptable, given the alleged track record of human rights violations?
"According to Human Rights Watch, between 2019 and 2022, six LGBTQI+ individuals were repeatedly and severely beaten, and there were five cases of sexual harassment in police custody.
"There are also reports of trans Qatari women having their heads shaved and makeup forcefully wiped off at the hands of the authorities."
He also elaborated that the political issues brewing beneath the surface in the sport have not been limited to solely "queer people".
He claimed that the "so-called Kafala system" is also said to disproportionately affect the rights of migrant workers, in spite of law reforms back in 2020.
"Migrant workers who built the stadium have suffered wage theft, passport withholding by the employer, and some have died without explanation," he went on.
John urged his fans not to judge the country's attitudes based on the track records of states nearby, which are believed to be more harsh.
"A state that violates human rights, on any scale, isn't automatically absolved by the fact that a neighbouring state is much worse," he argued.
"A violation is a violation, and at any level, it should be intolerable."
Harry Kane, Gary Lineker, Eric Cantona, Mel B and even Prince William have raised concerns about human rights issues surrounding the World Cup.
However, Robbie Williams has agreed to play a concert there during the event, leading to the star being publicly called out by Richard Madeley on Good Morning Britain.
As calls for a boycott increase, fans have also questioned ex-footie legend David Beckham becoming a paid ambassador for Qatar, and describing it as "an incredible place".
FIFA's Chief Social Responsibility and Education Officer Joyce Cook recently released a statement assuring fans of her aim to make football everywhere "accessible, welcoming and safe".
She added that using the organisation's voice to "raise awareness across the game" was paramount.
Yet John Whaite hit back: "Empty words, I'd say. By allowing Qatar to reap such huge rewards from the World Cup, FIFA isn't just endorsing human rights violations, it's funding them!"
Source: Read Full Article