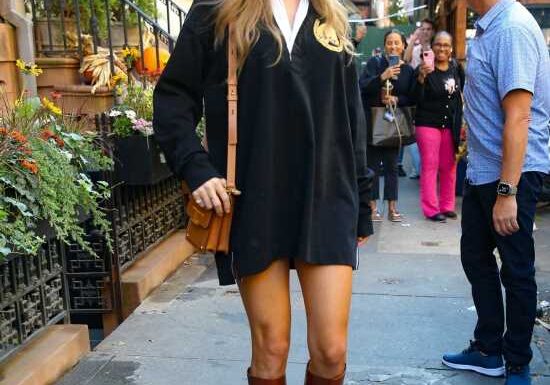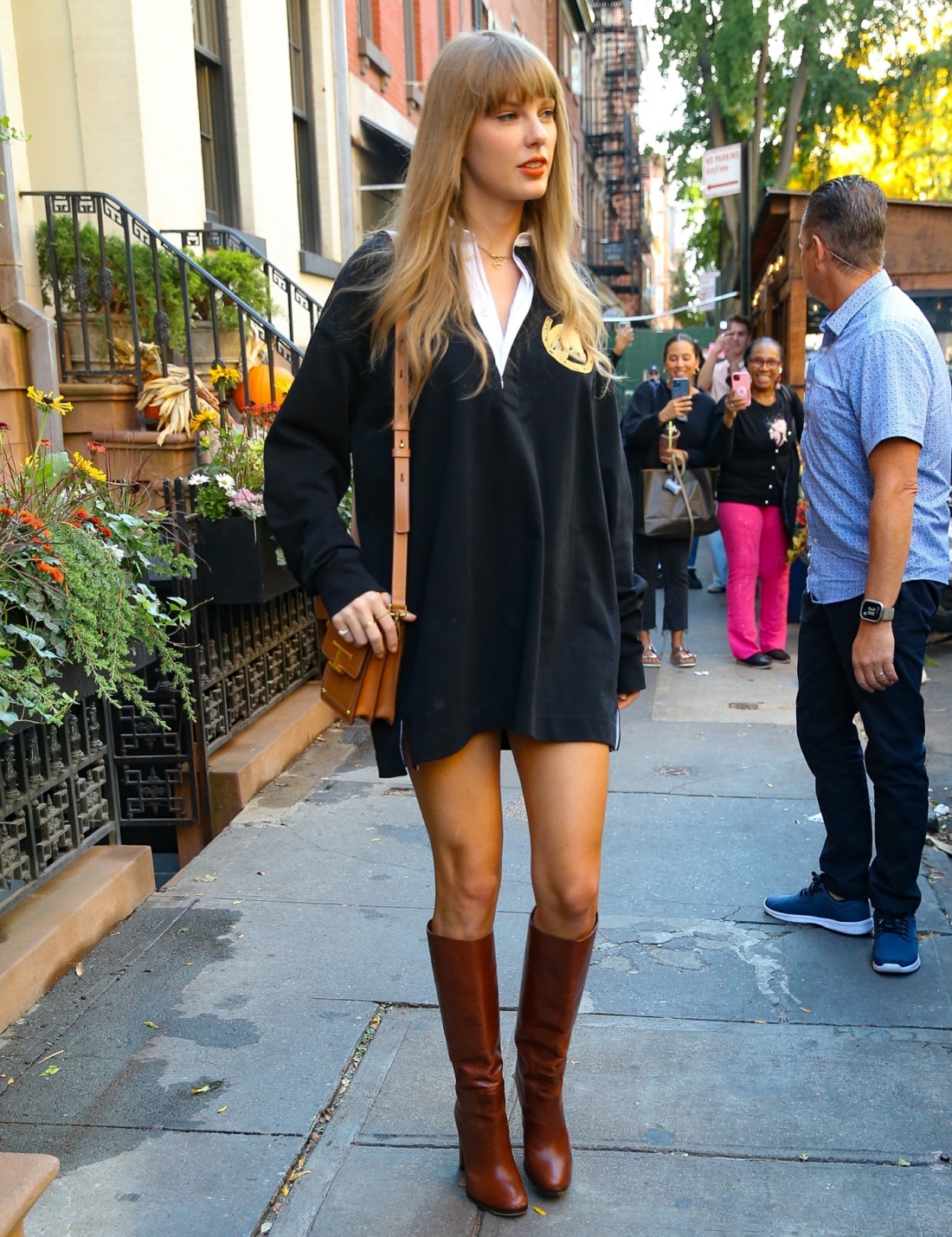 Taylor Swift skipped the Kansas City Chiefs' game last Sunday, where they lost to the Denver Broncos. Tay said she'll go anywhere for her man but not Denver. We heard, the next day, that Taylor would skip her tour rehearsals for a few days to go back to Kansas City this week though. She probably arrived in Kansas City on Monday, and she and Travis Kelce spent Halloween together at his original mansion – he hasn't moved into the new mansion, in a gated community, which he purchased a few weeks ago. The "gated community" issue is a big one, because the neighborhood kids wanted to ring Travis's doorbell and get candy from Taylor on Halloween. Instead, Taylor's security put up crime scene tape and kept children away from Travis's house. Amazing.
Travis Kelce, holed up in his love nest with girlfriend Taylor Swift, put up crime scene tape to keep trick-or-treaters away from his house, as a security guard told children 'nobody's home today.' But the families weren't buying it, especially after lights turned on inside the $1million Kansas City home.

'Liars,' one mother told DailyMail.com as her pre-teen daughter in a pink Barbie jacket sniffed that she didn't get to hit up the Chief's star and his pop princess girlfriend for candy.

'Why is it blocked off over there mom?' another young devil asked. 'They're not handing out candy, you believe that?' the mom snipped. 'Well, we know they're lying. Swifty is here.'

A security officer sat in his sedan parked in the driveway, as tape attached to his side view mirror stretched over the sidewalk and around trees lining the property. He shooed away the families strolling up and down the residential block knocking on doors.

'I don't get why he's sitting in the car telling us nobody's home, when clearly they are,' said another mom who was turned away. 'Why don't they just not answer the door.'

Others seemed to understand. 'We love you Taylor!' one boy dressed as a dinosaur hollered.

Taylor left Kansas City on Wednesdy morning and was seen arriving to her private jet, leaving behind her new beau. On Monday, Taylor jetted to Kansas City on her private jet to comfort the tight end after his team's loss to the Broncos in Denver. She arrived at noon, pulling into his driveway with a security motorcade, and remained there, sheltered from the cold as the sun set on Halloween. Kelce last week teased that he was going to host a Halloween dinner gathering, but the early evening at least appeared to a romantic evening for two, with guards making sure there would be no interruptions.
[From The Daily Mail]
I get that it's Halloween and there were probably a lot of neighborhood kids wanting to trick-or-treat at Travis's house, but it kind of reeks of entitlement from the neighbors? Like, no one is obligated to give free candy to your children! Some people just want to have a private dinner and adults-only fun on Halloween, for goodness sake. I enjoy the fact that Taylor's security put up crime-scene tape too, you can see the photos at the Mail – it actually does look like Kelce decorated for Halloween, like it's supposed to be "scary."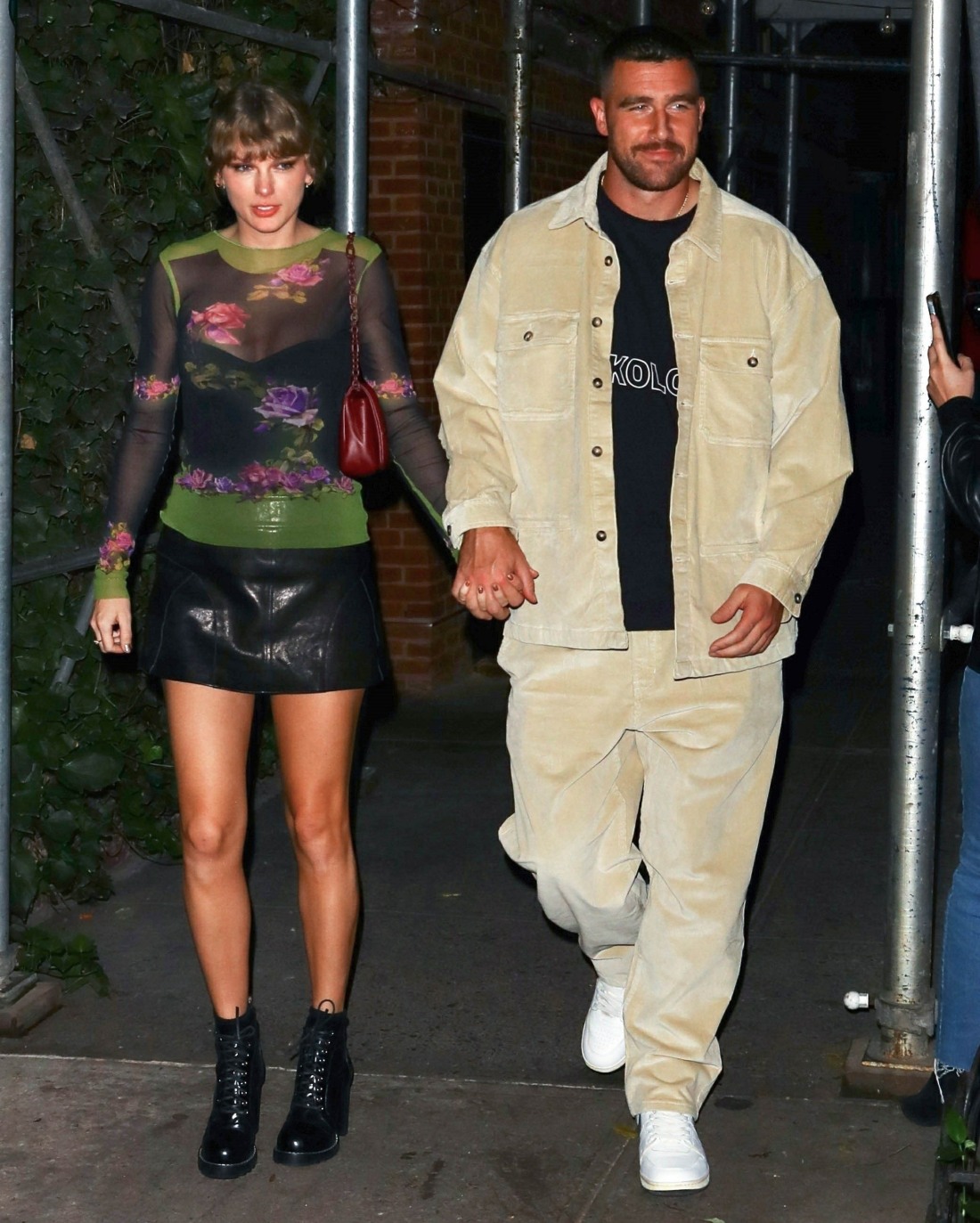 Photos courtesy of Backgrid.
Source: Read Full Article