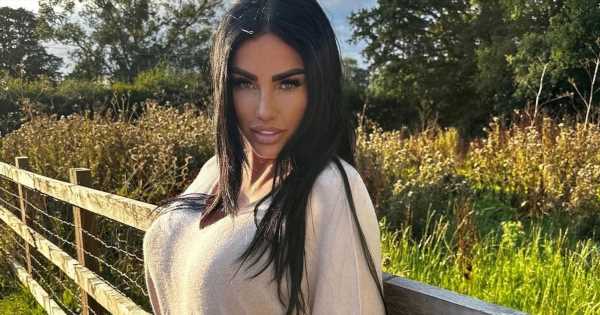 When many of us think of fame and a showbiz lifestyle, it's usually images of glitz and glamour that spring to mind, but Katie Price has sadly come face to face with the far more terrifying aspects of stardom after an alleged 'stalker' threatened to break into her home.
The 45 year old mum-of-five, who is an active user of social media was hit with a terrifying threat earlier this week, when a now-deleted clip showed a man threatening to break into her home through a hole in the fence.
In the clip, he could be heard saying: "I am going to the Mucky Mansion.
"Well, I'm going to a party near the Mucky Mansion and I'm going to break in through a hole in the fence and give Katie Price a copy of my book. So Katie Price, I'm coming for you."
Meanwhile in a further chilling development, a caption above the clip read: "Katie Price the Royal Guard is coming for you!!"
Following the ominous threat, Katie was understandably concerned, with a source close to the star having told The Sun that Katie took the threats so seriously that she "called the police straight away" in order to protect herself and her family.
The insider claimed: "She's terrified and doesn't want her kids put in danger."
Katie shares Junior, 18, and Princess, 16, with her ex-husband Peter Andre, and youngest daughter Bunny, nine, and son Jett, 10, with her third husband Kieran Hayler.
She is also a proud mum to eldest son Harvey, 21, with ex Dwight Yorke, although he currently lives away from home at a residential college.
Representatives for Katie told the publication: "Yes, Katie did have a call with the police after a man on TikTok said he was going to break into her property as she was concerned."
The disturbing threat is far from the first time people have threatened to break into Katie's home, as her 'mucky mansion' was previously targeted back in February 2023 by "men in balaclavas" who had all threatened to break into the mansion at night.
Addressing the terrifying situation on her Channel 4 show at the time, Katie told viewers: "Someone has been putting out private information and putting my address on social media.
"My house has been subject to threats with men in balaclavas coming here. The police have now put me on high alert here."
She added: "The world is going crazy at the minute. There's some very f***ed up people out there. I can't take the risk.
"Are they f***up weirdos and threatening? Or are they being serious? You just can't take the risk."
As well as the more recent threats, Katie's home has previously been targeted in the past, with two successful break-ins carried out at the property in 2020, with one set of thugs maliciously flooding her home by leaving the taps on.
As a result, the ground floor ceiling collapsed from the water damage and caused thousands of pounds of damage for the star, while trespassers also rifled through Katie's belongings in the loft.
OK! has reached out to Katie's representatives for comment.
Source: Read Full Article