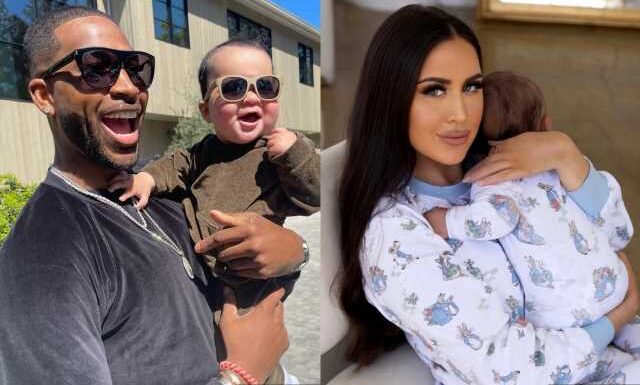 The Los Angeles Lakers star is dragged after people accused him of favoring his son Tatum, whom he shares with the reality TV star, over his son Theo with the fitness model.
AceShowbiz –Tristan Thompson may not be loving his children equally. The Los Angeles Lakers star was dragged after people accused him of favoring his son Tatum, whom he shares with Khloe Kardashian, over his son Theo with Maralee Nichols.
The basketball player received backlash after he took to his Instagram account on Friday, July 28 to give Tatum a special shout-out on his first birthday. Alongside pictures of him with Tatum, who looked cute in sunglasses, the athlete gushed in the caption, "Tatum!! Happy birthday my son!"
"You are a reminder of what life represents to me. You have taught me every loss comes a lesson and you are my gift," he added. "You are my reminder of all of God's messages. You are the reason that I began my story. The mistakes along the way are lessons not failures. There is no expiration date to reinventing yourself."
He additionally noted that Tatum's "sweet soul" reminds him of "God's grace." The pro baller, who also shares daughter True with Khloe, concluded, "You are a future king my son and I am so blessed to be your DaDa!"
While some fans thought Tristan's message to his baby boy was "sweet," some others pointed out that Tristan never posted anything about his son Theo. "Lol. Is your other kid you had at the same gonna receive this public display of appreciation guy?" one person commented.
Another user asked, "Wait don't he have another baby same age lol ?" A third critic added, "How about your other future king? Didn't make the cut?" Someone else commented, "You should love and praise ALL your children equally. That's what real dads do."
Tristan did admit that he's the father of Theo after Maralee filed a paternity lawsuit. However, the Canadian athlete has not publicly acknowledged his now 1-year-old son.
Back in April, Maralee appeared to shade Khloe when the reality star threw a lavish 5th birthday bash for daughter True. After "The Kardashians" star posted several party pics on her Instagram account, Maralee shared a picture from her beach outing with Theo. "Happiness," the fitness model wrote alongside the social media upload. "it's the simple things in life that are the most extraordinary."
You can share this post!
Source: Read Full Article