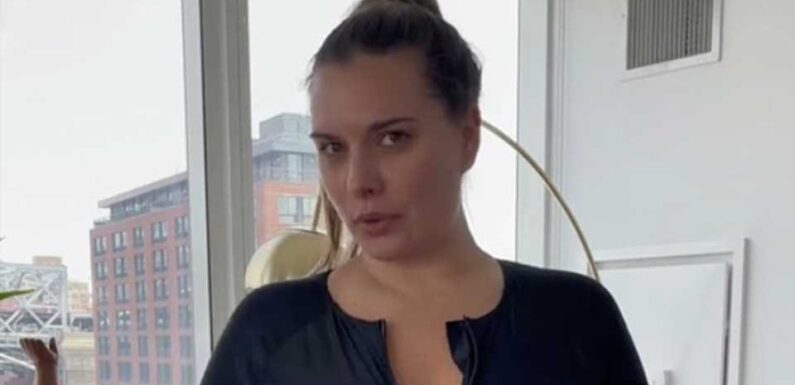 A CONTENT creator has shared her swimwear haul, which included Skims dupes.
The influencer showed off her impressive physique as she posed in each swim look.
In her the caption of her video, TikTok user Jojo Hadid (@iamjojohadid) joked: "I'm a surf girlie now, step aside Kate Bosworth."
Jojo, who wears a size 16, explained: "I'm going to Hawaii in two days and I ordered a ton of Skims dupe one-pieces."
For her first look, the TikToker modeled a $35 black half-zip monokini with white detailing.
She told viewers: "I wanted something kind of sporty with the zipper in the front.
"The reason I didn't get the Skims one is because I don't love my hip dips, I want them to be covered so this one is a return," she said.
Jojo also shared her thoughts on a $33 black V-neck swimsuit with white crisscross straps.
"How freaking cute is this?" she asked her followers as she tried on the look.
She continued: "There are straps in the back so I'm feeling super supported but I also like how it's covered up.
Most read in Fashion
Fight OFF after huge bust-up sees Wett slammed through table
'Furious' Beckhams' friendship with Harry & Meg 'over' after bombshell accusation
EastEnders' Shona McGarty sensationally quits the soap after split from co-star
Liverpool 'open talks with PSG' over sensational Kylian Mbappe loan deal
"I'm looking very snatched and this is really a sexy detail," Jojo said, referring to the neckline.
Next, the content creator posed in a $36 high-neck black one-piece with a white zipper.
"This one is the one that I was most excited for and it does look super cute," Jojo said.
She continued: "A lot of coverage, super secure, pop up on your surfboard and just give it your all."
Jojo also showed her followers a $28 black low-back one-piece with a white zipper.
"This one I am overly obsessed with, it is sexy, 1000 percent a keep," she said.
The influencer added: "Look at that low back, it's covered up but still sexy."
Finally, Jojo tried on a $38 black mock neck short sleeve swimsuit with a zipper.
"Surfer girl vibes, I'm lowkey obsessed but I'm just a little worried about the tan lines," she said.
TikTok users took to the comments section to share their thoughts on the haul.
"Second to last one with the low back looks awesome!" wrote one impressed viewer.
Read More on The Sun
Love Island fans predict who will win after spotting huge clue in Unseen Bits
Mum shares ultimate free day out for animal-loving kids but it's divided opinion
Another follower said: "The last one was PERFECT! Sexy and sporty! Tan lines be damned! OBSESSED!!!"
"Love it. The last one is so cute," commented a third person.

Source: Read Full Article