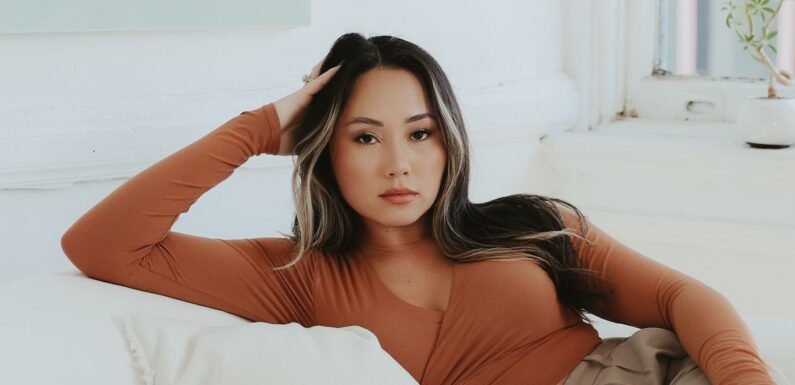 A WOMAN who likes going bra-free made it her business to ensure that women don't have to wear one in a stylish way.
In 2018,CEO Natalie Rogers Soto co-founded her Klassy Network clothing line, and due to the help of TikTok, she recently hit a milestone of $1 million in sales in a day.
Born and bred in Orlando, Soto started the company out of her garage with her co-founder and husband, Jacob Soto.
They have since grown the company to have its own full-fledged warehouse facility in the same city where she was raised, but the path there was a winding one.
Her size-inclusive range of Brami (bra + cami) tops provides stylish solutions so that you can have full coverage and support, without any bra lines.
In an exclusive interview with The U.S. Sun, the 28-year-old shared the inspiration behind her company, her career journey, and the role of social media in her success.
"As I got older, I always wished there were companies that had more bra tops like Brami. I wanted fashion and function together," she said.
Sizes range at Klassy Network from XXS – XXXL in clothing and S – XXXL in padding to accommodate chests from A-GG+ cups.
Soto has always had an entrepreneurial mindset, so she didn't completely start from scratch.
At 18 years old, she started a sports company in high school and taught kids how to play soccer in her town, which helped her figure out her own voice and speak in front of people.
Most read in Lifestyle
Little-known beach is now the best in the UK according to TripAdvisor
Cops fear missing baby is at 'high risk' and they may have left it out in open
Broadchurch star Andrew Buchan walks out on wife after falling for co-star
Real reason BBC axed Ken Bruce's Radio 2 show weeks before he was due to leave
Fast forward to college and she decided to grow that company even further by bringing her then-boyfriend and now husband aboard.
She explained how it grew into a six-figure business and had 30 coaches that worked underneath the duo and "sustained us."
Following the success of her first company, she said to herself, "I know how to start a company now" and transitioned into her next venture.
"I always dreamed of being a fashion designer when I was little but didn't think it was a feasible option," she admitted. 
For college, the co-founder went to the University of Central Florida, where she was in an entrepreneurship club, and received a marketing degree.
It was this club that helped her realize that her dreams were possible.
One day after she graduated college, she was working from home and searching on the internet for a bra top but couldn't find one that wasn't a sports bra.
From childhood all the way to adulthood, she always used to put foam breast cups in her shirts, but they would always fall out.
Klassy Network spawned from her own annoyance with a gap in the market for more fashionable tops with built-in padding.
It was then that she got an "intuition feeling," and wanted to design something with a bra built in.
"After I had the idea, I knew first I had to find a manufacturer to help bring the product to life," she said. " I didn't go to fashion design school and didn't know how to sew."
The process took eight months to get from the initial idea to the development of the first product, the original Halter Brami Crop, $10.
She picked that specific style because it flattered her body shape.
"I did everything online and communicated with the manufacturer and shipped the product back and forth," Soto added.
When asked if there were certain childhood experiences that helped shape the person she is today, Soto mentioned that there were plenty.
As an adolescent, she watched Project Runway a lot and enjoyed seeing how garments were made.
When she was about 14 or 15 years old, her aunt gave her her first sketchbook, and she started sketching to see what ideas she could come up with.
It was around that time, at age 15, that she attended a serious fashion design camp that "reignited passion and fire" inside of her.
"It was my first time being around fashion designers in real life," she added."If it wasn't for that, I didn't know I could make it."
The fashion lover mentioned that she didn't see many successful fashion careers in Orlando, Florida.
"My parents weren't super encouraging about fashion but were supportive about me as an entrepreneur and whatever I wanted to pursue," she declared.
The journey to success was not easy for Soto and her husband, and the first couple of years weren't smooth sailing.
"When you're getting started in an industry you're new to, it's not easy and a lot of trial and error," she shared.
In the beginning, their first few sales were from friends and family.
Afterward, the duo got in touch with marketing agencies to help grow their business.
It was financially draining to use Facebook ads and sponsored posts to advertise their company.
At the time, Soto also had a minimal social media presence, and most of her followers were from high school when the business first started.
Soto took a chance like many other influencers and started posting two videos per day on TikTok in 2020 during the middle of the pandemic.
One night, one of her videos went viral and hit a million views in a day, quickly becoming one of her career milestones.
"Sales skyrocketed overnight, and it was great validation," she explained.
By 2020, Klassy Network's main business model was organic marketing on social media, mainly TikTok. 
Using both their @klassynetwork and @itsnatalierogers TikTok accounts, they connect with customers to gauge their opinions on new products.
"The really cool thing about TikTok is that you don't have to have a million followers to get your message out there," Soto said.
According to the CEO, the social platform provides a great opportunity for small entrepreneurs to get in front of people.
"Once we stop limiting ourselves, the most unreal things started happening for us," she divulged proudly.
Upon the swift success of Klassy Network, Natalie and her husband, Jacob Soto, hired both of their mothers and her father to grow the brand in 2021.
She documents their involvement in the brand in many of her popular posts.
In 2022, when they launched a new summer line, Soto and her team hit their first $1 million in sales in a day.
"I remember tears and just all of us crying," she disclosed.
When asked if she was satisfied with her career right now, Soto mentioned that the bright minds behind the brand are "super happy with where we're at."
The duo even opened their first in-person shop in 2022.
She's the kind of person who "likes to go big or go home" and has no plans of stopping.
"Now that we've gotten a few years under our belt, I want to connect with customers in person, in pop-up shops this year," she said.
Read More on The Sun
Major supermarket makes huge change to meal deal – but shoppers will be divided
B&M launches massive 75% off everything in closing down sale
The family-run business also plans to expand its brand more internationally because they currently don't ship worldwide.
"There's just so much more still to happen and achieve," Soto said excitedly.

Source: Read Full Article