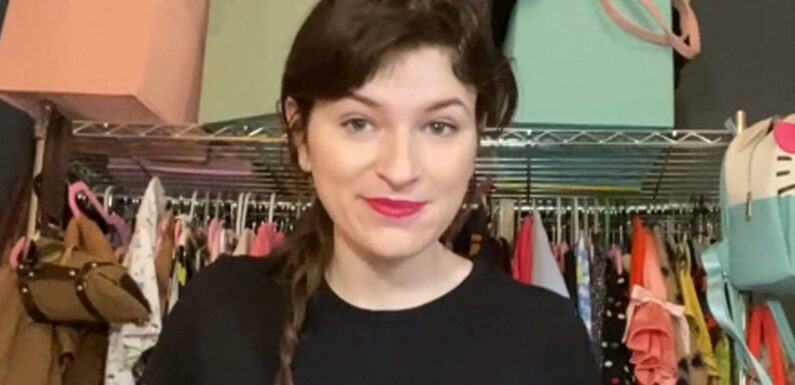 SKIMS customers on TikTok are always cursing Kim Kardashian's name – not because they hate the product, but because they keep spending money on the shapewear and loungewear.
According to superfans, Target is full of Skims alternatives that rival the real deal, so I put my RedCard to work and tried the viral dupes.
If you click on a link in this story we may earn affiliate revenue.
To prepare for my compari-Skims, I did a lot of research on TikTok, Reddit, Instagram, and even the review sections on the Target and Skims websites.
I found six Target products that fans insisted were duplicates of the high-end Skims versions.
I decided the casual clothing aisle would be my first target (hahaha!!!), since Skims T-shirts are as wearable as they are unaffordable.
READ MORE: KARDASHIANS
Russian TV airs 'Yulia Skripal phone call' claiming her dad is 'getting better'
To paraphrase the American lyricist Macklemore, fifty dollars for a T-shirt is simply too much.
Adding insult to injury, the Fits Everybody Super Cropped T-Shirt, $42, isn't even a full shirt.
In photos on the Skims website, this shirt concludes a full six inches before the good part of the midriff even starts.
I can't imagine paying more than $5 just for my belly button to be cold. Luckily, that is exactly how much Target charged me for the sensory experience.
Most read in Fashion
Harry 'felt less important than Wills when he was given fewer sausages'
Shocking moment fan KICKSAaron Ramsdale after Arsenal beat Tottenham
11st dog in pack that mauled woman to death was on 'problem puppy' show
Katie Price looks all partied out after night out with son Junior
The Short Sleeve Cropped T-Shirt from Wild Fable, one of Target's house brands, only comes in five colors.
That's a limited selection compared to Skims 20 colors, but I'll take the less-expensive dupe – especially after seeing how impractical it is.
I owned one of the Wild Fable shirts already, but research indicated mine was "all wrong" for replicating the Skims look.
TikTok fashionistas said to achieve a Kardashianesque silhouette, I needed to size down.
I bought the T-shirt in a size small, in black and white. From the moment I tried on the first top, I had regrets.
The white fabric was completely see-through, but that wasn't the worst of it.
I found the size small so constricting, it dug into my ribcage – a problem that made both colors too painful to wear.
Aren't T-shirts supposed to be comfortable? Discouraged, I decided to move on to another Skims simulation.
Target's other trend-driven brand, A New Day, supplied the next substitute for Kim Kardashian's celebrated styles.
The line's Short Sleeve Ribbed T-Shirt, $8, is a full-length top – and I counted at least 17 different color options across Target's site.
Fans say it's a perfect copy of the $48 Fits Everybody T-Shirt from Skims. Once again, I bought a size small.
After wearing Target's version, my faith in T-shirts is restored – and now, I have a 16-item-long shopping list.
I chose the Target shirt in a color similar to the neutrals Skims is famous for, but now I want to try all the brights, too.
It's got opaque, thick material with a silky-soft feel and a flattering cut, for a full $40 than the designer version.
I totally understand why Skims devotees would jump ship for this bargain.
Feeling heartened by my successful money-saving switch, I decided to get into my new stash of foundation garments.
Unmentionables are the bread and butter of Kim Kardashian's multibillion-dollar business.
So, at Target, I stocked up on bras, boxers, and a waist-shaping bodysuit.
When I opened my Target shipment, I was especially curious about a set of smoothing shorts I'd ordered.
The Hanes Body Toner Mid-Thigh Briefs come in a three-pack for $18.99 – just $6.33 per pair.
Reviewers swore they were an exact dupe of the Skims Soft Lounge Boxer, an exorbitant $34 per pair.
Even as I looked at the package, though, I wasn't so sure.
The shiny fabric seemed more akin to shapewear than loungewear, and it looked sheer, too.
Since the three-pack included different colors, I decided to try the black shorts first. After all, basic black is hard to mess up.
Once they were on my body, it was clear the size-small shorts were meant to be worn as shapewear, not for lounging.
The constricting fabric was translucent aside from a "control" panel in the front that was more opaque.
Trying on the beige shorts confirmed this – the affordable shorts would work great under dresses, but they aren't a Skims dupe after all.
I had another "too good to be true" moment when I tried the Colsie Rib Triangle Bralette, $7.
I couldn't believe the adorable bralette (size medium) was a dupe for the $34 Fits Everybody Triangle Bralette.
It turns out my skepticism was justified.
The bralette provided no support; it was more like wearing a loose camisole than a bra top.
Even though I didn't expect a miracle, the flimsy fabric felt saggy and droopy.
Under a T-shirt, it gave me unflattering "quad boob" rolls.
Well, back to square one, I thought, expecting my next item to be a disappointment like the cropped shirts and tiny bralette.
Spoiler alert: the next item is that "new favorite bra" you might remember from this article's headline.
Thanks to a coupon, I only paid $10.99 for the Auden Bliss Lightly Lined Wirefree Bra (regular price $14.99).
But it out-performed all of my other bras, including Victoria's Secret, Savage X Fenty, and Adore Me – brands that cost twice as much.
That must be why Skims fans say it's a dupe for the Cotton Jersey T-shirt Bra, $34.
The Auden bra (34DDD) was super supportive but easy to wear. I actually forgot I had it on until I looked in the mirror.
A tiny clip on the shoulder straps even converts it into a racerback style, making it functional, flattering, and versatile.
I'd never tried Auden before, but as I write this, I am eagerly refreshing the tracking info on four more bras from the brand.
My last Target treasure was also my most-anticipated: a reported dupe for the infamous Sculpting Bodysuit, $68.
Anyone with an unhealthy TikTok habit has seen the clips: women in various stages of undress, panting and sweating, trying to put on the Skims shapers.
The Maidenform Self Expressions Bodysuit, $28.99, didn't look quite as tiny as a Skims bodysuit straight out of the package.
But the inexpensive dupe is made from 81 percent nylon and 19 percent spandex.
That's pretty close to the Skims formula – 78 percent nylon, 22 percent spandex.
I started squeezing into my Maidenform shaper, which I bought in a size small.
That's when I began to understand why Skims fans filmed themselves trying bodysuits on.
The bodysuit was so tight, I was sure I'd suffocate; it was vital to have the camera rolling so my final thoughts would be recorded.
Getting the bodysuit over my thighs, hips, and waist took a full four minutes.
My life flashed before my eyes (which was pretty cool – I've done so much neat stuff!). With an abrupt snap, the visions ended and I could breathe again.
Reflected in my bedroom mirror was a flatter version of me.
The Maidenform bodysuit did what I saw the Skims version do for countless others.
My abdomen was so cinched, I was sure a vital organ had been displaced in the kerfuffle.
But once the bodysuit was on, it was comfortable – I couldn't even tell my spleen was squeezed up into my windpipe!
For $40 less than the Skims bodysuit, Target's affordable version seemed to work miracles.
In total, I spent $87.97 at Target (and I didn't even buy any notebooks or candles).
But if I'd bought the same products from Skims, including the two cropped shirts and three-pack of boxer briefs, my order would have totaled $372.
That doesn't mean I recommend every Skims dupe I tried.
I'll swear by the Auden Bliss Bra, Maidenform Self Expressions Bodysuit, and A New Day Ribbed T-shirt.
If you're looking for Skims style with a Target price tag, those will provide the most bang for your buck.
The cropped T-shirts from Wild Fable are great, but don't bother sizing down to get the "Skims effect." They'll just leave you with angry red marks on your ribs.
The Hanes Body Toner shorts will be a summer staple under skirts, but they're no match for the Skims Soft Lounge Boxers.
Read More on The Sun
You're getting stains out of your kids' clothes all wrong and it's ruining them
I eat one meal a day to feed my son & partner – I've lost three stone
And while the Colsie bralette might be fine for someone with a smaller chest, I can't speak to its efficacy as a Skims dupe.
If you're going to buy a Target bra, go for the Auden style I loved. Or, don't – the fewer you buy, the more there are for me!
Source: Read Full Article