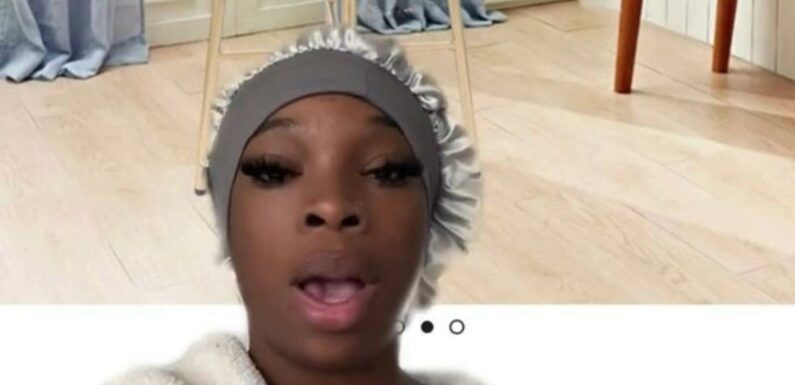 A MUM was mortified after realising the major error she had made after forking out over £40 for a pink chair.
Looking to transform her home a little, one TikTok user, Dyme Galoré (@diamondsgalore_), decided to order a velvet chair she had seen online.
However, when it finally arrived, the mum, from the US, noticed something was off and immediately took to TikTok to share the fail.
Warning fellow shoppers to not make the same mistake, Dyme said: ''When you order s**t online, make sure to check the dimensions.
''Like, look at the width – all that measurement s**t,'' the mum advised in the video.
This, it turned out, is something Dyme hadn't done before forking out £45 for the stunning pink velvet chair with golden bow detailing.
read more on homes
I've rearranged my home following these decor tips – now there's no clutter
My 25p hack can bring your old, rough towels back to life in just one wash
''In my head, I'ma look like a cute little princess in my chair, in my new vanity set.''
But in reality, she had ended up with a chair so small, it could fit her toddler daughter.
''What the f**k is this, bro?'' the mum was horrified.
Since being uploaded on the popular video-sharing platform, the clip has gone viral, racking up close to 1million views in just one day.
Most read in Fabulous
Prince Harry and King Charles agree on NEW titles for Archie & Lilibet
Meghan & Harry christen daughter 'Princess Lilibet Diana' at LA ceremony
Camilla suffers fresh heartache as much-loved family member dies
Dog trainer reveals three breeds he'd never advise for a first-time dog owner
And it's safe to say, social media users were in hysterics, as over 1.3k flocked to comments.
''Daughter just got a new chair,'' one couldn't stop laughing.
FABULOUS BINGO: Get a £20 bonus & 30 free spins when you spend £10 today
Someone else had a similar experience with ordering from the same retailer, writing: ''my dining table is the size of a console table.''
''I got a lil blu tooth speaker [sic]. It was the size of my finger,'' another revealed.
''Omg I was just about to order this for my teens! Lol it's soooo small! I am so glad I saw video,'' a mum had seen the clip just in time.
Speaking of major online shopping fails, one woman was also shocked when her new rug from Shein had arrived.
Looking to zhuzh up her bedroom on a budget, Crackermania, believed to be from the US, decided to see what's available on Shein.
Whilst scrolling on the website, the 17-year-old stumbled upon a bargain – a large fluffy rug in white.
Priced at less than £15, the deal was too good to sleep on and she immediately bagged.
But upon receiving the parcel, the young shopper was lost for words when she saw what was inside.
Rather than a chunky rug that would give the room a more cosy feeling, Shein had sent her a rug so tiny people reckoned it would fit for a doll house.
Mortified, Crackermania took a snap of the rug next to her foot to prove just how small it was.
Warning fellow shoppers to not make the same mistake, the social media user wrote: ''ALWAYS LOOK AT THE REVIEWS.''
It's safe to say, the clip has taken the internet by storm, racking up more than 480k views and leaving people in hysterics.
One chuckled: ''just put it in water.. it'll expand.''
Another penned: ''They did you so wrong.''
Read More on The Sun
I'm a fashion expert and these 5 styles of trainers make you look frumpy
Martin Roberts breaks down in tears as he announces death of father
''buy more and stick them,'' someone else came up with a solution.
''I was thinking about getting one I said nopeee after I looked at the reviews,'' a fellow shopper said.
Source: Read Full Article