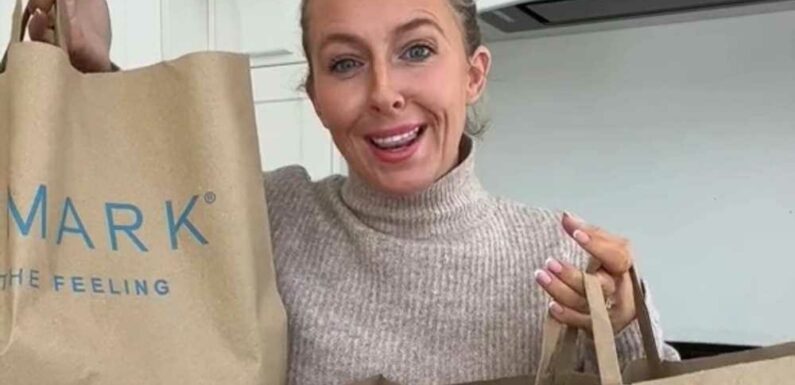 A FASHION fan has been raving about Primark's latest collections, hailing many of their products as good as those found in Zara.
Keen shopper Joanne Whitworth hit the aisles of the high-street chain in search of some new wardrobe staples and ended up with a huge haul. 
In it, Joanne had countless fashion must-haves, including purchases for summer holidays, swimwear and the Zara dupes. 
The 5 foot mum-of-two, whose TikTok profile is @petitiesideofstyle, filmed herself unpacking her shopping bags when she got home.
And with every new item, the style influencer, who shares "daily outfit inspiration" via her social media channel, gave her hot take. 
Joanne explained: "I've just been to Primark – let me show you what I came home with today."
Read More in Primark
Fashionistas run to Primark to nab a summer essential for their thick thighs
I'm fashion fan & did a giant Primark haul, I learnt that sizes mean nothing
The video started with a pair of beige pleated plisse style trousers, which the style fan dubbed as "her favourite find of the day."
She continued to her 14.7k followers: "They're £14 and they really remind me of the Zara ones, which are more wide leg, but they are that kind of pleated style trouser.
"These with swimwear, just a perfect holiday staple, every day comfy.
"They've got no zips, it's just elasticated."
Most read in Fabulous
Kate and Wills join stars including Geri Horner for Commonwealth service
Ciara & Emily Ratajkowski ditch bras at Oscars with no undies being hot trend
I put note in daughter's lunchbox after teachers told her off for how she eats
Savvy mum makes her own pergola for just £220 after being quoted £2.3k
But that wasn't the only item that reminded her of something that would be hanging on Zara's rails. 
Joanne also fell head over heels for the viral pink slip dress with a cowl neck, which shoppers have been going wild for recently. 
She revealed: "It's really, really similar to the Zara ones – these are £14.
"It's just such a cute little dress to throw on in the summer." 
She then held up a "gorgeous" £8 knitted style cropped t-shirt in a sage green shade.
Joanne continued: "They come in lots of other colours, but I'm really impressed with the quality of these – you can see the ribbed detailing around the neckline." 
Other items in her haul included a £22 cream padded coat, which she described as "beautiful" and "luxe", a £7 cream body and some stylish white dungarees, again at £22.
She also bagged some silver metallic heels with knot detailing for £16, and a flat version in a gold shade, which were just £9. 
Her haul was completed with some beige silk trousers with a slight shimmer for £14, and a white shirt with turn up sleeves which costs £12, and comes in a light blue shade too.
However, Joanne also had some tips about some of the other items she'd bought home with her. 
As she held up a pink silk style midi dress, Joanne admitted it had been a "wildcard" purchase. 
But it was a gamble that didn't quite pay off for her, as she warned others that the stitching around the waist drew attention to the wrong areas. 
She added: "This was £20, it did come in a really nice print, as well." 
And when it came to a gold swimming costume with ruching detail for £12, she said Primark were onto a winner, but encouraged customers to go for a bigger size than they usually opt for.
Read More on The Sun
Dumped Love Islanders mobbed by fans as they land in UK after missing final
I took my fluffy doodle to groomers – but he came back looking like Pennywise
She concluded: "I thought it was lovely. I did think it might be too high rise but it's actually not. 
"It is very, very tight so I would suggest sizing up at least one size."

Source: Read Full Article