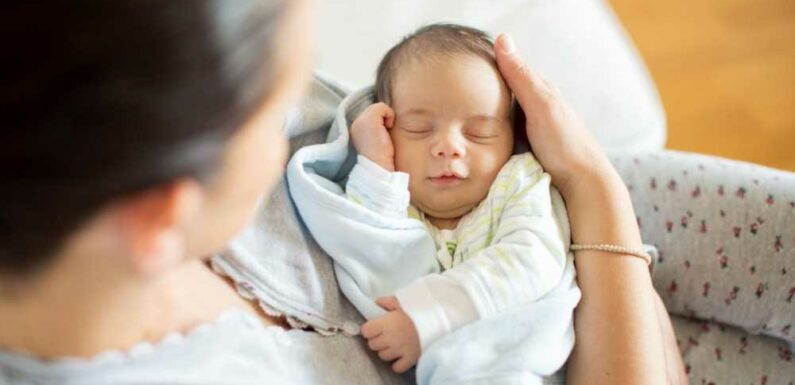 GONE are the days when the majority of parents called their new arrivals traditional baby names that you'd heard ten times over.
Instead, it appears there's a whole new roster of unique monikers taking over that could have been plucked straight from a Hollywood day care centre. 
From original name rebels Gwyneth Paltrow and Chris Martin, and their daughter Apple, to Molly Mae Hague and Tommy Fury's newly named little girl Bambi, many new mums and dads are looking to the stars for inspiration. 
But what do those in the baby field think of everyday people opting for extraordinary names?
A baby name pro and mum-of-two has had her say on the seemingly rising trend of members of the public calling their little ones after a celebrity offspring.
Jilly Blankenship – a Baby Sleep Consultant at Baby Sleep Made Simple and Neonatal Nurse – said she's not a huge fan of the idea, but she isn't surprised in the slightest. 
Read More in Baby Names
Baby name pro shares the invented names she can't stand and would never recommend
I love my baby names but my friends laughed & say my child will be bullied
Jilly says: "Members of the public are often influenced by celebrities in many ways, especially with the rise of 'influencers' and social media giving an insight into the lives of those seen in the press. 
"One way people can be influenced is in naming their babies.
"However, celebrities often opt for unique and unconventional names for their children, which may not necessarily be practical or appropriate for the general public.
"There are famous baby names that are unique but can be appropriate for regular babies, such as those named after places (Brooklyn Beckham), and other celebrities (Vivienne Jolie-Pitt).
Most read in Fabulous
Kate and Wills join stars including Geri Horner for Commonwealth service
Ciara & Emily Ratajkowski ditch bras at Oscars with no undies being hot trend
I put note in daughter's lunchbox after teachers told her off for how she eats
Savvy mum makes her own pergola for just £220 after being quoted £2.3k
"Or even unusual flower or colour-inspired names (Ginger Spice's Bluebell and Beyonce's Blue Ivy)."
But Jilly said there are some monikers that will leave parents looking silly in the long run.
Jilly continued: "However, it seems as though some celebrities use their fame as an excuse to name their children outlandish names that regular people wouldn't usually dare.
"These include Apple (Gywneth Paltrow and Chris Martin), Raddix (Cameron Diaz and Benji Madden), and, more recently, Kulture Kiari Cephus (Cardi B and Offset).
She also had an opinion on Brit reality royalty, Love Island's Molly-Mae and Tommy and their baby daughter Bambi – a name decision that sparked controversy at the time. 
Jilly added: "Despite it seeming to be an odd and novelty name, Bambi was a common name back in the 70s and 80s, due to its meaning of child. 
"However, Molly-Mae Hague and Tommy Fury using the name leads me to believe they've used it for the novelty factor. 
"Being influencers, they've probably jumped on the trend of naming their baby something that regular people wouldn't in order to feel more like celebrities than ordinary people."
And when Fabulous asked her whether she agreed with those who deem copying a celebrity like Molly or Gwyneth as 'tacky,' Jilly replied: "I think it can definitely be seen as unoriginal, yes.
"And it's a shame when people do this, as the child will have this name for life. 
"When they start school and grow up and become parents themselves, they might not be happy with their name or others could treat them badly because of it. 
"There is no sentiment and love behind it either, and that is sad."
So instead of outright copying those in the public eye, Jilly encourages parents-to-be to think long and hard about what they want to call their new arrival.
After all, it's something that will follow them around for the rest of their lives – for good, or bad.
She explained: "The best way to find unique names that are still appropriate and sentimental is by looking into foreign translations or historical variations of names that you like, or meanings that resonate with you.
Read More on The Sun
Dumped Love Islanders mobbed by fans as they land in UK after missing final
I took my fluffy doodle to groomers – but he came back looking like Pennywise
"I believe that it's important for parents to consider factors such as cultural and family traditions, as well as the long-term implications of the name they choose for their child. 
And she concludes: "Parents should choose a name that they love and that reflects their values and personality, rather than simply following the latest trend."

Source: Read Full Article