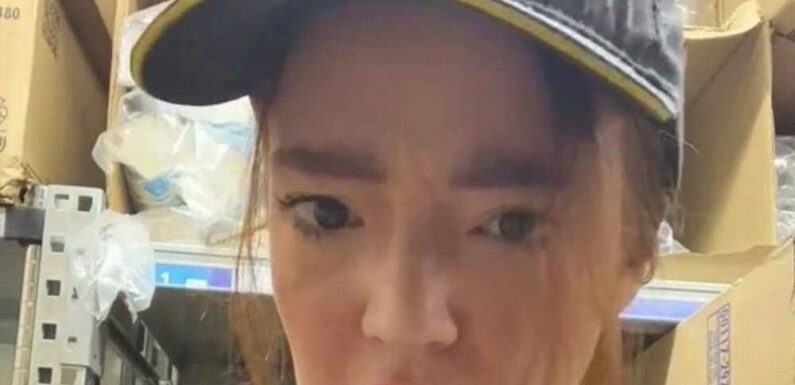 A WOMAN who works at McDonald's has taken to social media to reveal what it's really like working for the fast-food chain. 
20-year-old Abbie Selby explained that customers need to stop ordering a 'normal coffee' and expressed that it is highly frustrating when people haven't properly decided on their order before they place it.
Posting on TikTok about working for the chain, Abbie noted: "The reality of working at McDonald's."
She shared her clip with the caption 'Living the dream' before revealing the irritating things that customers often do. 
In her clip, she acted out common scenarios between her and customers. 
First of all, Abbie explained that it is very irritating when customers ask for a 'normal coffee.'
Read more McDonald's stories
I went to the world's largest McDonald's…it's known as Epic McD & I was stunned
She said: "Hello, welcome to McDonald's, what can I get for you this morning?" to which a customer responded "Can I get a double sausage and Egg Mcmuffin meal with a normal coffee please, love?"
To this, Abbie responded: "Yeah, that's fine, we have a latte, cappuccino", but the customer then interrupted and said "Oh no, no, no, I don't want any of that. I just want a normal, normal coffee."
As a result, Abbie noted: "Okay, I'll just put through a white coffee", but moments later, the customer arrived very disappointed with their drink.
The customer noted: "Hi, I just came through the drive through and I was given a white coffee, when I specifically asked for a black coffee." 
Most read in Fabulous
I'm a tattooed nan & love wearing skimpy dresses but people call me 'revolting'
I'm a rich mum expecting 9th child… the only sacrifice I've made is designer bags
Estate agent reveals three things that make your house look cheap
Beauty fans race to snap up £1.40 product which will stop you wanting filler
To this, Abbie confirmed: "Oh, I'm so sorry, that must've been my mistake. You said normal coffee so I just thought white coffee. So I'll just get that changed for you."
Another situation that Abbie often deals with, is when customers complain about their food being put in the bin, when they have left it unattended and finished at the table. 
As Abbie cleaned a table, a customer asked her: "Can I just ask why you've binned all my food when I clearly wasn't finished with any of it?"
To this, Abbie explained: "Oh my God, I'm so sorry. I've just come into work and the table was clear, so I thought you guys had gone home, right?", but the customer angrily responded "But we're here though aren't we? So are you gonna give us some new food or?"
Abbie then replied: "Well no because all of it was finished, that's why I binned it. If it was all there and not eaten, I probably would have left it, but all the food was eaten."
However, the customer wasn't happy with this response and said: "Are you calling me a liar? My kids' Happy Meal, she wasn't done with that, she still had at least two nuggets left."
Abbie then explained: "No, there was an empty Happy Meal box because I threw it in the bin", but the customer claimed: "Well, I'm not leaving until you get me some food."
After this, Abbie went on to explain that it can be highly frustrating when people make an order but haven't fully decided on what it is that they want.
Acting as a customer, they asked: "Can I get a chicken nugget Happy Meal, with [turns to child] what milkshake do you want? A banana milkshake, please. Actually, no, sorry, he wants a chocolate milkshake now. Oh, no, sorry, he wants a fruit shoot now. Oh, sorry, he wants a little Fanta instead. Oh no, I'm so sorry, he wants an Oasis now instead."
Finally, Abbie explained that customers will often come into stores and complain about food from multiple days ago, which is highly annoying for the staff.
Pretending to be a customer, she asked: "I got this UberEats order about two days ago and I was just wondering if I could get the food re-made."
To this Abbie replied: "Right, was it our store that you ordered from?", but then the customer responded "No, no, it was actually the one in town, but you guys were closest to where I am today, so I thought I might as well."
Abbie's clip has clearly shocked many, as it has quickly racked up 91.2k views.
It has 16.5k likes, 69 comments and 26 shares.
Many other McDonald's workers could empathise with Abbie and were quick to relate to her in the comments.
One person said: "Orders with kids in the car are so frustrating." 
Read More on The Sun
Matalan shoppers rush to buy £22 dress that fans say 'doesn't crease'
I'm a mum-of-one – Universal Credit change in Budget is 'game-changer' for me
Another added: "I binned someone's food because it was literally on top of the bin and they had a go at me." 
A third commented: "This is so trueeee all of it I hate them kind of customers."
Source: Read Full Article