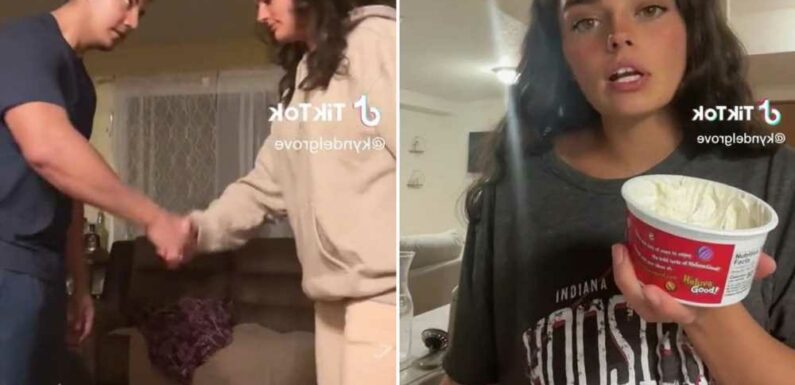 SHE'S almost 24 and in a committed relationship, but she and her boyfriend have never kissed.
Kyndel took to her TikTok page to share a video explaining her stance on intimacy with her man, telling people that she's Christian and doesn't intend to kiss anyone until she's married.
"So I'm almost 24 and my boyfriend and I – he's my first boyfriend – we've been dating for almost two years and we've never kissed," she began.
"And before y'all call me weird and all that nonsense, because I get that all the time, we're Christian.
"We are saving ourselves for marriage and we have boundaries.
"For me, I never want to kiss anybody unless he's my husband because I feel like that's a special thing."
Read more Relationship stories
My boyfriend creeps me out I can't bear to kiss him
Moving in with my partner was a scam – I'm doing wife chores without a ring
Kyndel added that she thinks it's "really cool" that she and her boyfriend don't rely on "anything physical to keep our relationship going".
"I think that's neat," she said.
"And I don't give a frick what any of you guys think, because I get hate all the time about it, but the only person I'm pleasing is God, okay?
"And our marriage will be blessed, let me just say that."
Most read in Fabulous
Harry 'crosses Charles' red line' after astonishing TV attacks on Camilla
We're a throuple like David Haye & Una Healey – and people are always shocked
Meg 'sobbed on floor' after tense exchange with Kate over 'baggy' dress
How much of Harry's garbage can we actually believe?
She was praised in the comments section by many people for sticking to her beliefs, with one writing: "THANK YOU! When breaking up with my ex, he asked 'do you genuinely believe someone will have the same standards as you'.
"This video right here is proof."
To which Kyndel replied: "GIRLL!!! Keep those standard high. The right man WILL respect them. No question."
"My husband and I didn't kiss while we were dating," another added.
"Our first kiss was at the alter! Dated for 2 years, engaged for 8 months and 2 years in marriage!"
"Do you shake hands when you see each other?" someone else asked.
With Kyndel jokingly replying: "No, usually do a cartwheel."
In response to a comment on another video, she revealed that she and her boyfriend do hug.
Source: Read Full Article