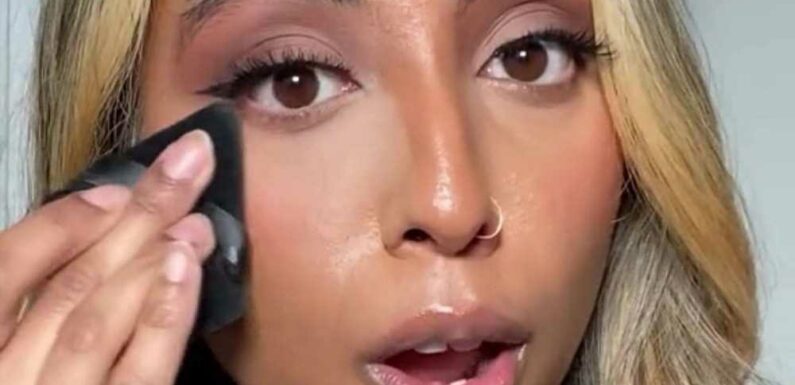 A BEAUTY PRO took to TikTok to share her latest find – and claimed the Charlotte Tilbury Airbrush Powder dupe might actually work better. 
Thivi, known online as @thivib, regularly shares beauty tips and tutorials with her 53,800 followers. 
In a new video, the content creator shares her first impressions of the Revlon PhotoReady Blurring Powder, costing £11.29. 
She claims it's a dupe for the Charlotte Tilbury Airbrush Flawless Finish powder, which will set shoppers back £38. 
That's a potential saving of more than £26. 
Thivi said: "Not only is this supposed to be a dupe for the Charlotte Tilbury powder, but it's supposed to be even better, and it's drugstore so let's try it out. 
MORE BEAUTY NEWS
I forked out £900 on extensions but it was an epic fail
I worked at Sephora and these are the best dupes which are just as good
"This is the Revlon Blurring Powder. 
"Okay, so it comes with a brush, but we're going to not use that. 
"Okay, so I have nothing on. I went in with the powder already, now let's apply this right underneath. 
"Oh my god. You guys, before…and after. 
Most read in Fabulous
Meghan & Harry told to 'go home' as US now thinks couple are 'uninteresting'
My neighbour painted their side of the fence without telling me & I'm fuming
Mum-of-twins gutted after forking out on lavish gender reveal but she has no shame
I'm a size 18 and known as 'the PT with a belly' – trolls call me a whale
"This is going to sell out. Go grab it."
During the 43-second video, Thivi is seen using a powder puff to apply the pressed powder directly under her eye. 
Not only does the powder appear to smooth her undereye, but it also brightens and mattifies. 
Fans loved the honest review, with the video gaining more than 1,900 likes and 50,000 views. 
In the comments, Thivi's followers raved about the dupe, with one writing: "The Revlon blurring powder changed my makeup game for the last year- always a staple now. 
Another said: "Ahhhh don't sell this one out!!!! I've used it for so long!!! Come on."
A third added: "Ok I need to try this bc miss Charlotte is breaking my bank."
Source: Read Full Article