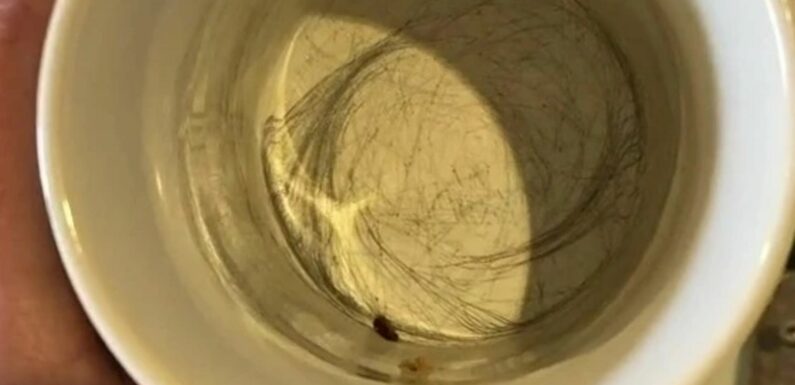 A CLEANING enthusiast has revealed how she removes any harsh marks from her mugs in seconds – and it costs just a penny.
Those who cannot imagine their mornings without a cup of coffee or tea will be familiar with the dark scratches on the bottom of your mug.
Fortunately, one whizz, TikTok user Ann Russel (@annrussell03), has come to rescue with a simple cleaning trick that's both effective and won't cost you loads of money.
To demonstrate the hack to her 2.3million followers on TikTok, Ann grabbed a soup mug, claiming the marks wouldn't come off in the dishwasher.
Instead, she recommended in the video, use your favourite cleaning paste and use a kitchen sponge to apply a little dollop.
Although the market is full of various such pastes, Ann was using Elbow Grease in her clip.
READ MORE ON CLEANING
Mum-of-five Stacey Solomon shares £4 Amazon buy to keep your oven spotless
People are just realising the difference between bio & non bio washing powder
After a little scrubbing, the cleaning fan revealed the results – and the mug looked like brand new.
To remove any excess residue, either chuck it inside the dishwasher or give it a rinse in the sink.
Fellow cleaning fanatics flocked to comments and many thanked Ann for having shared the trick.
One wrote: ''I genuinely thought those were scratches. Didn't know they could come off.
Most read in Fabulous
Full English should NOT contain popular item, experts say – do you agree?
Shoppers love Matalan's new Spring range – but they all have same complaint
I thought I'd got the perfect wedding guest dress but everyone said the same
I have the best tricks to make the house smell great before guests arrive
''Learn something new every day.''
''Aw, I love those marks. They're a sign of a well-loved mug,'' a second chuckled.
FABULOUS BINGO: Get a £20 bonus & 30 free spins when you spend £10 today
''Ann is a legend,'' a loyal fan exclaimed.
Another agreed, writing: ''I didn't know they could come off! you're a national treasure Ann.''
Elbow Grease paste has become a staple in many households and can be found on your local high street.
The Range offers it for a pound and online retailer Fab Finds sells a 500g tub of the product for a quid too.
The bargain find means that a small dollop of the cleaning paste should only cost you a penny.
Recently, the whizz also shared how to banish nasty shower limescale in seconds with a 20p hack.
According to Anna, the answer is quite simple and there are only a few steps involved – with no harsh scrubbing either.
The first thing, she explained to her fans, is removing the shower head.
Then put it in a bowl of hot vinegar – for those in the US, she suggesting using CLR cleaner.
Where possible, Ann also recommended another extra step – running a little pin or a needle through all of the tiny holes to remove any stubborn bits of limescale.
As always, the guru's video has taken the internet by storm, with dozens of people thanking her for the hack.
One fan chuckled: ''Learnt more from Ann than school ever taught us.''
Read More on The Sun
Woman shares hack to get last bit of ketchup out of the bottle – but be warned
Netflix fans say they 'can't sleep' after watching gory horror Alive
Another added: ''Thank you! We have really hard water here.''
''Always so informative,'' a third flocked to comments.
Cleaning hacks and tips
Here are some tips to help you clean your home like a pro:
How to clean your washing machine in a few easy steps
Keep on top of cleaning your oven regularly
 Clean your shower to ensure it's always sparkling
How to clean your microwave using cheap household items

Here's how to get rid of that nasty

limescale in your kettle
You're cleaning your carpet all wrong – here's how to get it spotless again in no time
Unblock a toilet without a plunger
Clean your fabric or leather sofa in a few easy steps
If you haven't cleaned your mattress in ages, here's how
Steps to cleaning your dishwasher to leave it looking brand new
This is how to clean mirrors and windows without streaking
Keep your toilet clean in four easy steps
Give your TV screen a once-over
Did you know your Venetian, Roman, vertical, or roller blinds also need cleaning?
Deep-clean your fridge in five simple steps
Source: Read Full Article