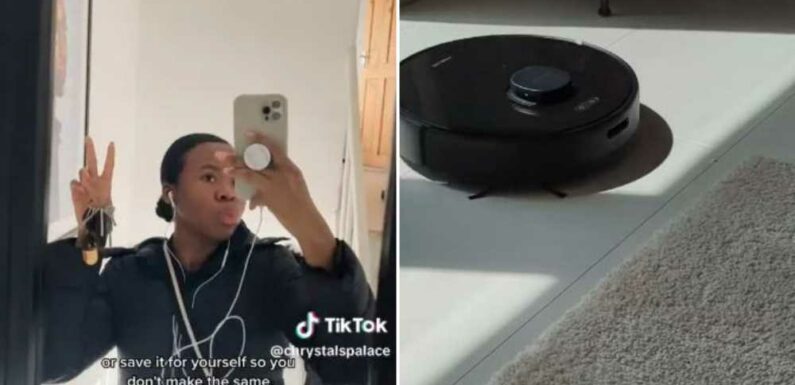 A DIY fan has revealed four things she regrets buying for her new home. 
Chrystal shared her biggest regrets in a TikTok video online. 
She said: "Please don't make the same mistakes that I have."
"First up, touchscreen appliances. I thought they would make my life so much easier and they just seemed really cool."
Chrystal thought touchscreen appliances were so cool she bought three for her home.
The DIY fan "So I bought a touchscreen oven, a touch screen washing machine, and a touchscreen dishwasher."
Read more DIY tips
I was fed up my cluttered life so binned everything & now live in my tiny car
How to make your rental look posh including £3 buy to stop nosy neighbours
Crystal said a year on the prints on her appliances are fading. 
"Anyways, I couldn't be more wrong. They don't really work if you touch them with wet hands and the print on them has already started rubbing off and it's only been a year. Not practical at all."
Chrystal says that her flash speed mop is more efficient than her robot vacuum cleaner. 
"Next my robot vacuum cleaner that also mops. It sounded like a dream come true"
Most read in Fabulous
I'm a catfish pro – people mistake me for Kate Beckinsale when I'm glam
Man goes 'too far' after making £1k in 2 hours by clearing Sainsbury's shelves
Harry 'infuriated by "bombshell" from Charles over cost of Meghan'
I'm a beauty fan and the hairband hack is the secret to perfect eyebrows
"But in reality I never used the mop in function because my flash speed mop is so much more efficient. I wish I had just saved the money and gone with a regular robot vacuum."
Chrystal also confessed she has installed a black sink which she now regrets. 
FABULOUS BINGO: Get a £20 bonus & 30 free spins when you spend £10 today
"Speaking of cleaning nightmares, let's talk about my black sink."
"It looked sleek and stylish at first, but in a hard water area like where I live, every little bit of limescale shows up."
Chrystal said the sink is so bad she is looking into investing in a water softener system. 
The DIY fan said the sink is a nightmare to keep clean. 
"It is a constant battle to keep it clean and I literally have a full cleaning routine just for it. 0 out of 10 don't recommend it."
Chrystal said she bought a budget sofa but it was so uncomfortable she bought a new more expensive one. 
Read More on The Sun
Ulrika Jonsson reignites feud with Maisie Smith and Max George
Woman hits back at trolls who think her chest hair smells
"Lastly, my cheap sofa. It was so comfy for me, but everyone else hated it. The quality was so poor and I regretted not investing in a better one sooner."
"I recently splurged on a quality sofa and it's made all the difference."

Source: Read Full Article