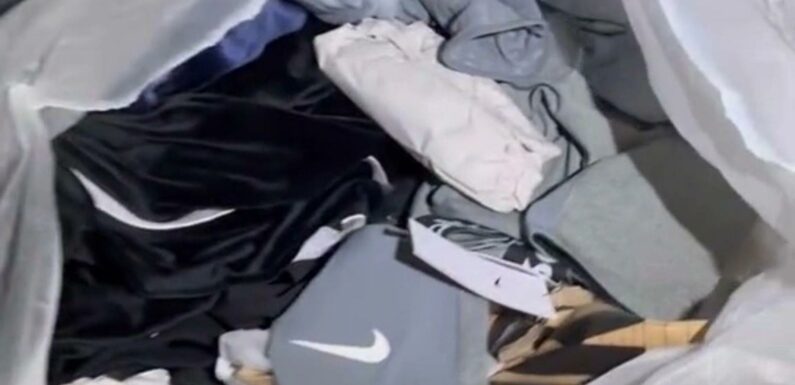 A WOMAN has revealed the expensive Nike goodies she bagged while rummaging through bins.
Ella Rose, from the US, regularly shares videos of herself dumpster diving in shop bins to see what treasure she can find.
In a recent TikTok video posted to her account @glamourddive she was left stunned by what she found in the Nike store bin.
She said: "Dumpster diving at Nike. And this is insane."
The fashion fan first spotted a giant bin bag and decided to open it up.
Inside, Ella was stunned to find loads of clothes, and many still had the tags on.
READ MORE ON DUMPSTER DIVING
I hit the jackpot when dumpster-diving at Poundland
Woman who went dumpster diving reveals the amazing goodies she found
She said: "There's a bunch of leggings, and they still have tags.
"Oh, my gosh. This is still in the packaging."
Many stores often cut up items before throwing them out so that people can't take them, but Ella was pleasantly surprised to see they hadn't.
She found a pair of converse worth £23, a sports bra with the labels still attached worth £32, and white shorts for £30.
Most read in Fabulous
I did up my council house bathroom for just £70 with buys from Wilko & B&M
I bought a cute party dress from Vinted but it arrived with a disgusting stain
Air fryer whizz shares favourite new sweet snack that takes five minutes
I bought £6 veneers – people say I can be seen from space as they're so bright
The dumpster diver even bagged a navy Nike sweatshirt which retails for £40, plus two Nike Jordan sweatpants worth £50 each.
Ella found three pairs of leggings still with the tags on that retail for £50 each, a brand new pair of black slim sweatpants worth £40 plus a black Nike Tech hoodie for £110.
Finally, the dumpster diver found a waffle-texture grey jumper that retails for £60.
In total, Ella found over £519 worth of goodies.
The video has since gone viral with over 1.4million views and 191k likes.
People quickly took to the comments section to share their thoughts on Ella's haul.
One wrote: "Finding a Nike Tech in a dumpster is crazy!"
Another person commented: "NO WAY YOU FOUND A TECH."
"Stuff thrifting let's go jumping in bins," penned a third.
Meanwhile, a fourth said: "I'd actually love to go dumpster diving."
Read More on The Sun
Savvy parents scramble to nab Disney toy kitchens reduced from £55 to just £7
iPhone users issued urgent warning as thieves use 'reset' trick
"Time to go DUMPSTER DIVING," claimed a fifth.
Source: Read Full Article