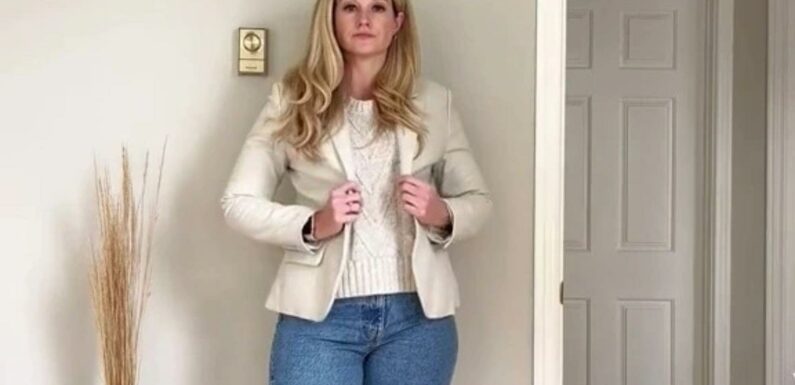 A FASHION pro has shared her golden rules when it comes to dressing a pear-shaped body.
And while she says that there are many fashionable clothing items that don't compliment that particular body shape, there's plenty of stylish alternatives that will make the most of the slightly curvier figure. 
Social media user Krissy Schofield – who describes herself as a "pear shaped fashion rep sharing body type style tips" – took to her platform to run through the outfits that get a gigantic no and how to turn them into a yes.
And there were some popular outfits on the list. 
Krissy, whose TikTok profile is @krissy.schofield, explained: "Avoid wearing skinny jeans or pants that hug the body and draw attention to the hips." 
Instead, Krissy maintained that skinny jeans should be swapped out for the more on-trend wider leg style. 
Read More in Fashion
I'm a fashion expert and these 5 styles of trainers make you look frumpy
Fashion fan shares the perfect denim look, but it's not in the women's section
She continued to tell her 17.9k followers: "Wear bootcut or flared jeans that help balance out the lower body and lengthen the legs."
The next statement piece that Krissy focused on in her wardrobe was a dress.
Krissy continued: "Avoid straight fitting dresses that hide the smallest part of your waist and draw attention to your hips.
"Instead choose a-line or fit and flare dresses that help define the smallest part of your waist and balance out your body."
Most read in Fabulous
My family say I've named my daughter after drugs – I don't care, I love it
People always mispronounce my daughter's name and they will her whole life
King Charles announces new Duke of Edinburgh – and other royal titles
I work at Aldi – what's on special today including a Shark hoover dupe
The third and final do and don't was all about blazers and although one type does nothing for a pear shaped body, another makes it stand out for all the right reasons. 
Krissy went on to say: "Avoid wearing blazers that end at the hips.
"These draw more attention and add bulk to this area."
But, luckily, Krissy had a helpful alternative as she encouraged those with a pear body shape to "wear fitted blazers that end below the hips."
That's because they "draw attention downwards and to the smallest part of your waist." 
However, Krissy also said that it was important to point out that each individual will have slightly different rules.
One of her followers pointed out that they were pear shaped and still opted for skinny jeans.
They wrote: "Disagree with the jeans. You can wear skinny jeans. Just balance it properly. 
Read More on The Sun
Legendary TV channel axed after 17 years on screens in major streaming shake-up
People are just realizing they're closing iPhone apps wrong
"As a shorter pear shaped person, skinny jeans look the best on me." 
And Krissy replied: "That's a good point, height does matter and everyone is different."

Source: Read Full Article