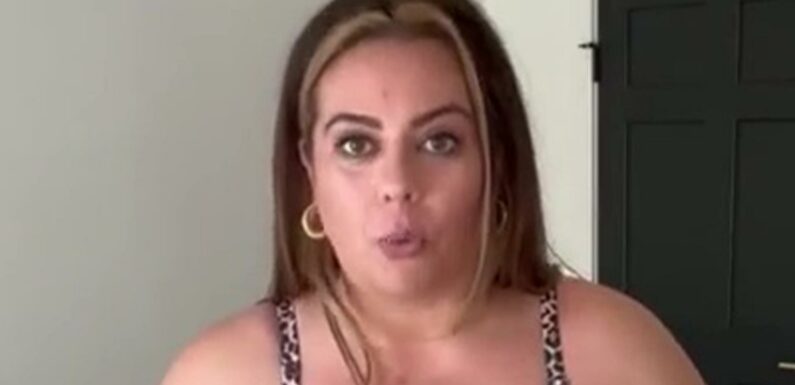 A PLUS-sized fashion blogger has shared her favorite one-piece Amazon bathing suit.
The TikTok influencer has received nearly 3,000 views on her video revealing what she loves about her "favorite Amazon swimsuit of all time."
Callie (@hotpinkandglitter) captioned the video: "Warning: this suit will 100% make you start singing anything/everything from the Cheetah Girl's discography!"
While wearing the cheetah print bathing suit in the video, she said it "feels so locked and loaded and supportive."
"I actually wore this, I this, to a waterfall in Bali and I was like good to go," she added.
Callie noted that she got the bathing suit in her usual size, "which is 18."
The TikTok creator got the swimsuit in leopard print though she said it comes in "a bunch of different colors."
"This is a true wrap top," Callie said.
She added that the top of the bathing suit is "completely open when you put it on."
Callie explained that the style of it involves wrapping ties on the swimsuit around your body when you're wearing it before tying them in the front "however you want."
Most read in Fashion
Lineker could triple £1.3m BBC pay as rival broadcasters line up to sign him
Newport killer crash survivor breaks silence as three pals left dead
BBC has AXED Football Focus after hosts pull out over Lineker Twitter storm
Mum, 47, 'strangled sons aged 7 & 9 before killing herself at home'
"So you can adjust it according to the support that you need and your bust size."
She said that the bathing suit is "perfect" for her.
"It's totally true to size," Callied expressed.
She added: "It's like a 100 out of 10."
STILL DANCING
Trolls have tried to tear down other body-positive influencers on the app, but one responded perfectly to the hate.
In a video of her smiling and doing some dancing, she totally dismissed the critic and reminded her followers to do the same.
In one clip, Kemp modeled a new swimsuit, dancing to Meghan Trainor's body positivity anthem All About That Bass – but one viewer objected.
"Don't, it's awful," the troll wrote. Even though the comments filled up with people coming to Kemp's defense, she took the time to film her own response.
Wearing a different bikini, Kemp lip-synched to a different verse in the song, proudly shaking her butt and her stomach along with the music.
She specifically made sure to look directly into the camera on the final line of the verse while singing along to the words "every inch of you is perfect from the bottom to the top."
While changing in and out of saucy outfits, another plus-size woman on TikTok also proved she didn't care what other people thought about her fashion sense.
The daring woman uses her TikTok account @Trinity..Avila to motivate others to do the same.
Read More on The Sun
I caked my face in makeup for my passport – people say customs won't let me in
Couple add £180k to the value of their home spending £6k in the process
In an inspirational video, she styled several outfits based on the clothing she gets told she shouldn't wear as a plus-size woman.
For more on plus-sized swimwear, check out The U.S. Sun's coverage of one influencer's bikini haul from Target, where one piece disappointed.
Source: Read Full Article