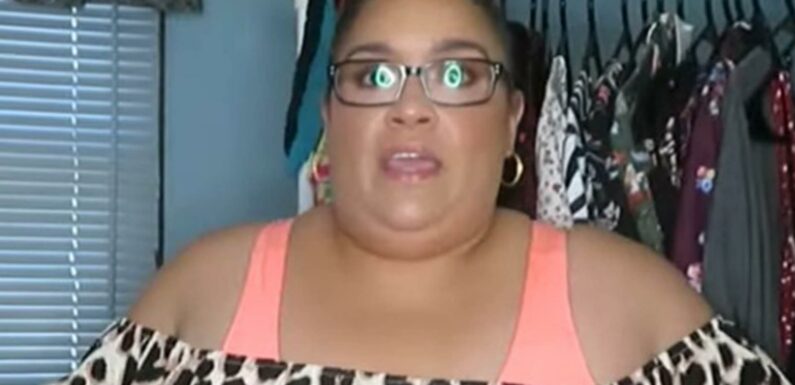 A WOMAN has shown her followers how to be sexy and plus size in a new video showing her haul from Shein.
The plus-sized YouTuber showed off a number of dresses in preparation for the spring and summer.
Her YouTube channel aims to show what clothes look like "on a real plus-size body."
In her try-on videos, Tasha St James (@TashaStJames) vows to never wear shapewear as "not everyone wants to or can wear it."
In her recent Shein haul video, Tasha explained her measurements to new followers.
In tops and dresses, the YouTuber is a size four and five X, and with jeans can be 24 or 26.
read more on plus sized women
Trust viewers accuse cast of 'mumbling' and complain they can't hear
Tasha encouraged viewers who plan to shop on the Shein website to "check your measurements and theirs."
Due to the sizing differences, with some of the Shein clothes, Tasha wears a size 28-30.
She added that she never uses shapewear "because I want you to see what it looks like on a real plus size body" and accepted that she is "unproportioned."
After showing off a lightweight tee with a print on it, she then moved on to a leopard print dress.
Most read in Fashion
My husband Kyle Walker is a d*** after being caught flashing, says wife
Police launch probe into caravan park 'altercation' hours before deadly crash
Man City star Kyle Walker will NOT be punished by club over flashing video
Corrie's Rob Mallard grows close to new man after splitting from soap co-star
The off-the-shoulder garment pinches in at the waist with an elasticated piece under the bust and across the top of the breasts and shoulders.
She said: "If you're bigger shouldered, a bit beefy up here girl, you got plenty of stretch.
"Don't be thinking just because you got large arms and your broad up here that you can't wear something like this because if you want to be sexy, you can be sexy too darling."
She showed off the loose sleeves which reached her elbows and flattered the shape of her arms.
Tasha joked: "They're the flutter, I mean when you're out dancing and stuff – shimmy, shimmy!
The dress also tiers as it goes down to her calves which was a detail she missed online.
The Shein FIT+ Leopard Print Off-Shoulder Butterfly Sleeve dress is on the website for $11.25, down from $22.49.
Happy customers reviewed the product online with one saying: "Such a beautiful dress!
"Super comfortable, true to size. It's become one of my favorite summer dresses!"
Another added: "Dress is flowy but has shape. Can't wait to wear in the summer."
Tasha encouraged women to not cover up their bodies when it gets hot outside.
She added that too many plus-sized women are too self-conscious of what people will think of their clothes and make themselves uncomfortable in the summer heat.
Read More on The Sun
I'm a fashion expert and these 5 styles of trainers make you look frumpy
Martin Roberts breaks down in tears as he announces death of father
The YouTuber said: "Girl, it is too darn hot to be worrying if Karen and her mamma over here don't like the way you look in something.
"If you feel good in it, it makes you feel pretty, you feel cute, you put the outfit on and you get good vibes instantly and you're much cooler, girl, rock it!"

Source: Read Full Article