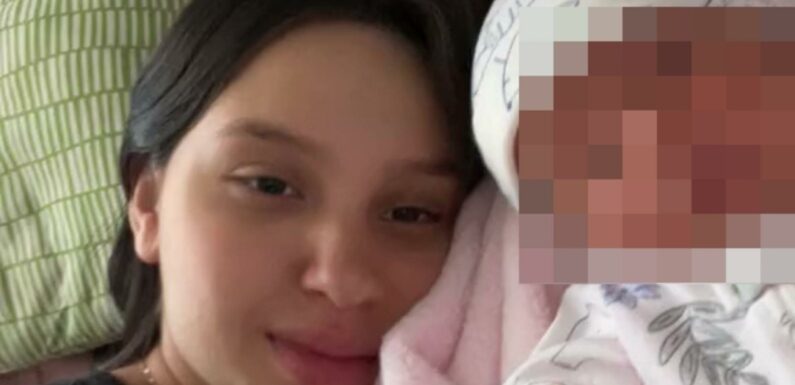 A TEENAGE mother has revealed that trolls say she was too young to have a baby, but she planned to have her daughter at 19-years-old and claims she is "living her best life."
19-year-old Natalie, from Chicago, is a mum-of-one who posts on social media under the username @nattaliee.x.
She had her daughter Thalia, in October 2022, and explained that she had planned to have a child young, so that by the time she is in her 30s, she can chill in her bed and not have to worry about changing nappies.
The young mum took to TikTok to open up about her life, as she posted her clip with the caption 'To those who say having a baby at 19 was too young… My little family and I are going to live the best lifeee. TRUSTT🤍'
She said: "Glad I had my baby when I did.
"I'm going to be in my 30s, in bed, not having to worry about a poopy diaper or having to pop to nip out at 4am.
Read more real life stories
I'm 20 and I hate being a young mum – it's so lonely & my friends don't get it
I'm a 20-year-old mum and I'm sick of people saying the same RUDE things to me
"My kid will be old enough to make her own food, drive her own car, have a job and make her own money.
"Meanwhile, mommy is planning her next trips to Paris and Egypt, so take that Karens." 
Natalie later added: "My baby.. I love you.
"Never felt a love like this before.Never knew I could love someone sooo much until I met you."
Most read in Fabulous
I'm a gypsy girl and these are the biggest misconceptions about my community
I was Prince Harry's Army instructor – 'suicide' training story is fantasy
Harry & Meghan 'won't join Charles & Camilla at palace for Coronation moment'
Sleep expert reveals how to stay warm at night without putting the heating on
She also explained: "Just like most older mothers, my daughter was planned!!!!! 
"I decided to have my baby at 19.
"I'm still chasing my dreams. 
"Almost finished with college to become a radiologist!! It's a "trust the process"😭
"People like to doubt younger mothers.
"Anything is possible."
Natalie posted her clip just six days ago, but it has quickly racked up a whopping 734.7k views.
It has 106.6k likes, 383 comments and 268 shares.
TikTok users were left divided at Natalie's situation – while some thought she was too young to be a mum, others revealed that they too had their children in their teens and early 20s.
One person said: "No for real… having a baby at 20 was the best decision I ever made" to which Natalie replied "Literally! Baby girl and I are having the time of our livesss. Still seeing/discovering things together."
Read More on The Sun
Major update to Netflix with new rule change to impact viewers
Doctors told me my baby would weigh 9lbs at birth, but they were way off
Another added: "I'm waiting until I'm at least 28+ I do not care. I'm finishing med school and starting my internship before popping one out." 
Meanwhile, a third commented: "I'm so tired of young moms ages 17-21 trying to make older mothers feel bad for waiting till they were financially stable, ready/or enjoying their 20s."
Source: Read Full Article