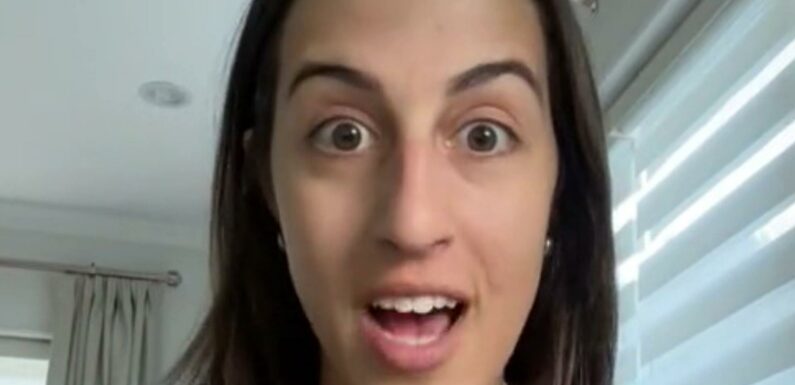 A WOMAN has taken to TikTok to share the 'best' pocket money system – and claims her dad's monthly budget was the key to making her so good with money. 
Hannah, known online as @hannahkoumakis, regularly shares money and budgeting advice with her 36,000 followers.
In a new video, Hannah, from New Zealand, shares how her dad used to give her and her two sisters £105 ($200) each a month. 
Every month, all three girls received the same amount and had to put 40 per cent into savings. 
With the remaining 60 per cent, they had to buy anything they might want or need. 
She said: "This is the story about why my parents decided, at the age of eight, to give me $200 pocket money every single month. 
MORE MONEY TIPS
I'm a money-making whizz and found a way to save money when selling on Vinted
I'm a side-hustle pro and have found the best way to make money from home
"So at the age of eight, my parents decided, 'you know what, we want to teach our kids how to be really good with money'. 
"And so instead of just…buying us stuff that we wanted, buying us a new barbie doll, buying us clothes, they were going to teach us how we can do it. 
"So we got given $200, but this was $150 back in the day, so let's just use $150. 
"We didn't just get $150 per month to spend, no. We had to be taught the power of saving. 
Most read in Fabulous
I'm a gypsy girl and these are the biggest misconceptions about my community
I was Prince Harry's Army instructor – 'suicide' training story is fantasy
Harry & Meghan 'won't join Charles & Camilla at palace for Coronation moment'
Sleep expert reveals how to stay warm at night without putting the heating on
"So, with $150, we had to make sure that we put aside 30 per cent into our long-term savings. 
"Now long-term savings basically meant anything that was towards a house. Long-term savings was literally a house account. 
"So at the age of eight, I was saving for my first house and I got so excited watching it grow in my bank account. 
"So that was 30 per cent. We are Christians and believe in paying tithe, so we also had to pay 10 per cent of our income to tithe. 
"That gives us 60 per cent left. With that 60 per cent, did we get to use it? No, we had to save. We had to save another 30 per cent for our short-term savings. 
"Short-term savings basically meant anything to do with buying a big ticket item, so a car. It was essentially a car account or a laptop account. 
"That brings us to a whopping 30 per cent of our income that we were allowed to spend. 
"Bare in mind, we had to buy everything. We had to buy our clothes. So if we needed a new top, we wanted a new top, we had to buy it ourselves. 
"Fortunately I was the third child, so I had a lot of hand-me-downs. But my sisters decided to make a bit of money from me, and they would sell me their clothes. 
"So I think my eldest sister found it the hardest because she was the one that actually had to buy clothes herself. 
"So whenever we wanted a new Barbie doll, we would never go up to our parents and nag them. We would literally have to save ourselves. 
"So my parents went from being, 'no, you can't buy this, no, no, no' to 'yes, you can buy this, but do you have enough money?' 
"We were not allowed to touch any of our other accounts. This meant from the age of eight, I was literally looking forward to sales and making sure that I could get more bang for my buck. 
"But, it doesn't just stop there. My dad instilled within us that we had to keep a finance book. 
"So if you've seen my previous videos, you'll know why I document every single item that I spend because that's been drilled within me for the past 15 years. 
"I've documented everything I've ever bought for the past 15 years. It can kind of seem a bit OTT, but I think it's great. 
"Even whenever we would go and find money, like 10 cents on the ground, we'd write it down in our little finance book. 
"We got paid this pocket money system up until we were about 13 years old. 
From 13 years old, we had to go out and find and make money elsewhere. 
"So at the age of 14, I was making my own money through my first job. 
"I had a property press run, I also worked at Domino's pizza. 
"But yeah, it was the best system ever because it meant that now, I really understand and I have a great appreciation for money and how hard people work to buy the things that they can." 
Hannah's pocket money system attracted plenty of attention online, gaining more than 154,000 likes and 1.6 million views. 
In the comments, her followers shared their thoughts on her dad's system, with one writing: "Love this!!! we pay our kids for doing jobs weekly to spend when we are on holiday. I like your parents' system better esp the documenting of it all."
Another said: "Wonderful, wish I had something like that."
Read More on The Sun
Major update to Netflix with new rule change to impact viewers
Doctors told me my baby would weigh 9lbs at birth, but they were way off
A third added: "My son is about to turn 8 and I am going to do this now. Thank you."
Others weren't sure how useful this exercise was, with one adding: "Part of me thinks this is great, also I feel let a kid be a kid. I'm good with money and my parents didn't do this."
Source: Read Full Article