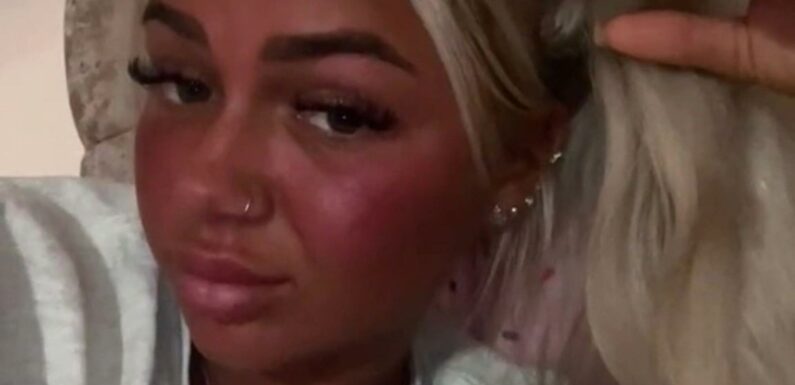 A WOMAN has hit back at trolls who tell her she should stop using sunbeds and nasal tanning sprays.
Jessica-Louise, from the UK, often shares videos on TikTok of herself tanning using a sunbed.
But many have told her she will regret her sunbed and nasal tanning spray obsession when she is older.
It is illegal for people under the age of 18 to go on a sunbed in the UK because of the dangers high UV rays can cause, such as skin cancer states the NHS website.
In the TikTok video, Jessica-Louise suggested people often tell her: "You don't understand the health risks of sunbeds and using nasals, you'll regret that when you're older."
Jessica-Louise then pretended to play a 'mini-violin,' and added: "Leave me and my gals to be tanned."
READ MORE BEAUTY STORIES
Woman with huge boobs hits back at trolls asking if she has back pain
I got Botox in my jaw but it went wrong – people say it looks like a fish gill
In comments under the video, Jess revealed she used a nasal tanning spray to get a dark tan and went on sunbeds twice a week for 10-12 minutes a time.
The 20-year-old woman admitted to also using nasal tanning sprays, which includes the artificial hormone melanotan.
In the UK it is illegal to sell nasal sprays or injectables containing Melanotan-2.
This hormone stimulates the pigment cells in your skin to produce melanin substance that makes skin look darker) writes Cancer Research UK.
Most read in Fabulous
I'm a gypsy girl and these are the biggest misconceptions about my community
I was Prince Harry's Army instructor – 'suicide' training story is fantasy
Harry & Meghan 'won't join Charles & Camilla at palace for Coronation moment'
Sleep expert reveals how to stay warm at night without putting the heating on
The charity and research group adds that melanotan injections and nasal sprays are unsafe.
Their website states: "Unlicensed melanotan injections may not have been tested for safety, quality or effectiveness. So we don't know how serious any possible side effects could be.
Because they are not regulated, unlicensed melanotan injections could contain other harmful chemicals that aren't listed on their label."
The NHS website states that the UV lights in sunbeds can cause skin cancer, just like the sun – and the risks are especially greater for young people.
It writes: "People who are frequently exposed to UV rays before the age of 25 are at greater risk of developing skin cancer later in life.
"Sunburn in childhood can greatly increase the risk of developing skin cancer later in life."
But despite the health warnings, Jessica-Louise seems unfazed and would much prefer to look bronzed.
The video has since gone viral with over 3.9million views and 178k likes.
People were stunned and many took to the comments section of the video to share their thoughts.
One wrote: "I know you know the risks but you're going to regret it."
Another person commented: "Just be careful babe, those things are dangers for real."
A third penned: "Just make sure you do every 6 months / year with a dermatologist."
Meanwhile, a fourth added: "I mean I absolutely get their concern, but once they've warned you, there's really nothing else they can do."
Others asked Jessica-Louise why she didn't use spray tans instead but she revealed she hated the process and smell.
"I'm curious why don't you just spray tan?" asked one.
She replied: "Can't stand application or smell."
Sunbeds have long been linked to skin cancer and have even been banned in countries like Brazil and Australia.
Read More on The Sun
Major update to Netflix with new rule change to impact viewers
Doctors told me my baby would weigh 9lbs at birth, but they were way off
According to the International Agency for Research on Cancer (IARC), there is significant evidence to show that using tanning beds causes melanoma.
They report that sunbeds increase the risk of skin cancer by up to 20 per cent, and also state that they have no positive benefits to our health.
Source: Read Full Article