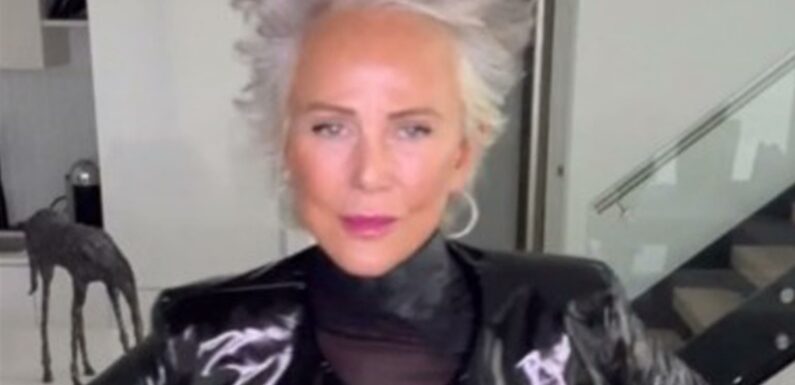 A FASHION influencer refuses to let age stop her from wearing what she wants.
Hanya Kizemchuk, a 60-year-old model, shared her outfit videos with over 90,000 TikTok followers.
She shared footage of herself modeling an all-leather outfit during a shoot over audio that describes how she feels about her job.
"I love who I am, I love what I do, and I like how I do it, and I like my mistakes, and I like the way I learn and I like the pace with which I learn my mistakes," she said.
"I don't want to be anyone else but me and by knowing this, I want to continue figuring out who the f*** I am, that's it."
True to her word, in another video, she shared herself dancing in a slinky, silk blue dress.
"Sexy at 60," she said.
Although the model has received hate comments from trolls, she doesn't even bat an eye.
In a video where she flaunts her body in a bikini, she responds to the trolls.
Dancing and posing in her two-piece, she claps back at mean comments.
Most read in Lifestyle
Liam Smith WINS after incredible shot sees Chris Eubank Jr hit deck
Maya Jama hit with legal demand for $1million diamond ring from ex-fiancé
Liam Smith STOPS Chris Eubank Jr in fourth round of heated Battle of Britain
Prince Andrew plotting sensational bid to overturn £3m settlement with accuser
"BEST LIFE …. Feeling good where I'm at ..,. Haters go home," she said.
People took to the comments to share their thoughts.
"Let's settle something… that woman looks absolutely gorgeous, a body that many 20 years old wish they had," said one supporter.
"She's healthy, happy , glowing and free."
"There she is world one of the most confident stunning women….we should all be inspired," agreed another.
"Stunning," said a third.

Source: Read Full Article