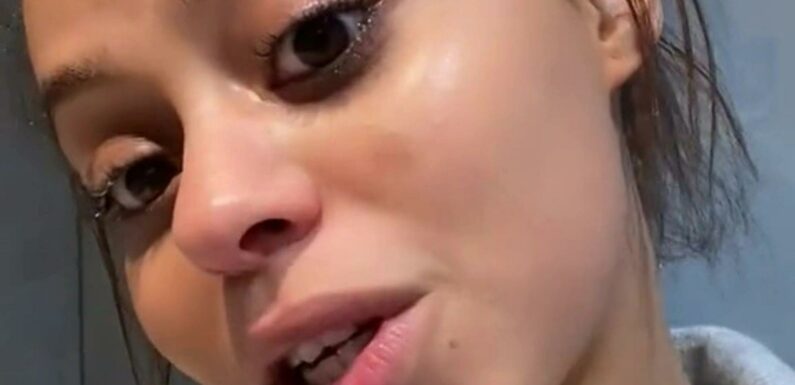 THERE'S nothing worse than discovering a product you love, only to be stuck with a hefty bill every time you need to restock. 
Luckily one beauty pro has found the perfect dupe for the viral Elemis Pro-Collagen Cleansing Balm – meaning you could save over £40. 
Debbie, known online as @debbiemillyard, regularly shares skincare and beauty tips with her 1,040 TikTok followers. 
In a new video, she shares her new favourite cleansing balm – and claims it works better than the pricey Elemis one. 
"Okay, we need to stop spending 50, 60 quid on the Elemis Pro Cleansing Balm. I said it. 
"I have a product that cost £2.50. £2.50 and I'm going to show you why you're going to stop spending 60 quid or wanting to spend 60 quid on the Elemis Pro Cleansing Balm. 
MORE BEAUTY NEWS
I'm a Home Bargains superfan and found the best perfume dupes
I'm a beauty pro and found the best setting powder – plus it's just £1
"Let's take this makeup off." 
During the two-minute, 50-second video, the beauty fan shows how quickly the dupe works to break down her makeup. 
"It smells divine, and look at that makeup just melting off my face. 
"You couldn't see my scar before, but now my makeup is coming off you can see it.
Most read in Fabulous
Prince Harry's THIRD tell-all chat airs in the US as royals face more bombshells
Harry blasts Queen Camilla as 'dangerous villain' and calls her 'other woman'
Royal fans say the same thing about Harry's bombshell interview
Harry says 'stereotype' of Meg stopped Kate & Will welcoming her into family
"It's also got a slight bit of texture, so i feel like I'm scrubbing my face like with a nice, gentle exfoliant. 
"I'm in love and it smells like eucalyptus and something else – peppermint? Tea-tree? Something. 
"It smells freaking fresh. 
"Let's do the eyes."
Debbie moves the cleansing calm over her entire face, including her eyes, before wiping her face with a reusable cotton pad. 
"Okay, so I had MAC mascara on. Oh my god, look how disgusting that looks. 
"I had MAC mascara on my eyes and all that mascara is gone. 
"Yes, I look like a panda but look, it's all just scrubbed off onto my face. You can see it. 
"Now let's go in with a cotton pad." 
She then reveals how much makeup comes off – and even she's surprised. 
"Look at that. Look at that. 
"Okay, different lighting. Look how much it's taken off on my face. 
"And it actually feels [like[ it's hydrated my skin after I use that and take my makeup off. 
"Because usually when you take makeup off, it feels like tight and dry. No, no. 
"So yeah, now we're all ready for a face mask and to get into the shower."
At the end of the video, she reveals that she used the Source of Nature Nourishing Cleansing Balm, available at Sainsbury's for just £4 for 125ml. 
The Elemis Pro-Collagen Cleansing Balm sets shoppers back a whopping £46 for 100ml – that means there's a potential saving of £42. 
Fans loved the savvy shopper's find, with the video gaining more than 13,600 likes and 384,000 views. 
Read More on The Sun
I worked at Yankee Candle – many don't know our 'jar for jar' policy
Love Island's first ever 'blind' contestant Ron Hall unveiled
In the comments, Debbie's followers thanked her for sharing, with one writing: "I spent nearly £20 on a body shop cleansing balm. I'm running to Sainsbury's!! Thank you beautiful."
Another said: "I bought this last week…amazing. Used to use Body Shop camomile but I'm converted, great price, great product."
Source: Read Full Article