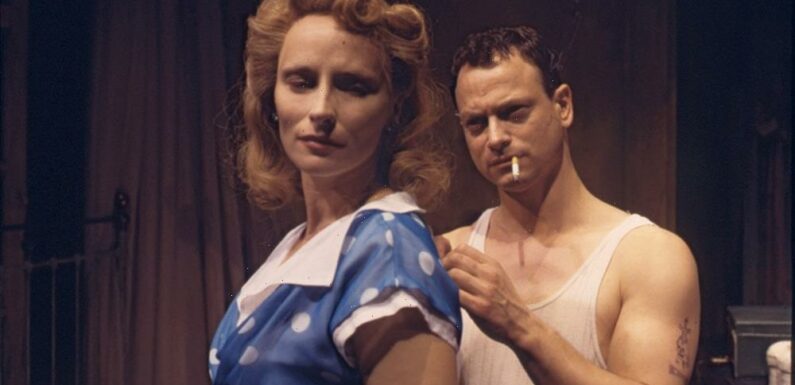 The oversized contribution Chicago has made and continues to make to the American entertainment landscape comes in no small part from its vibrant and varied theater scene. With well over 200 theaters, from small stages featuring intimate fare to larger houses sending major productions to Broadway and beyond, it's difficult to find any American film or television series that doesn't have roots that trace back to Windy City stages.
The Steppenwolf Theater Company is one where heavy-hitters John Malkovich, Laurie Metcalf and Gary Sinise forged their craft early in their storied careers. Playwright and actor Tracy Letts premiered his Pulitzer Prize-winning "August: Osage County" at Steppenwolf in 2007.
"It's a lot easier to produce good theater in Chicago than in many other places," Malkovich told Roger Ebert back in 1984 and that still applies today. "You can always get a few people together and put on a play."
Chicago has the distinction of receiving the most Regional Tony Awards of any city, for major theaters including Steppenwolf, the Goodman, Victory Gardens, Chicago Shakespeare and Lookingglass.
Adding to Chicago's theatrical contribution to the zeitgeist is the immeasurable impact of the Second City. What began in 1959 as an improvisational comedy troupe has grown exponentially into a comedic empire. Franchising its classes and shows to Toronto and Los Angeles, the Second City's legendary alums read like a who's who of comedy, from "Saturday Night Live" (Dan Aykroyd, John Belushi, Tina Fey, Amy Poehler, Cecily Strong, to barely scratch the surface) and "SCTV" (John Candy, Eugene Levy, Catherine O'Hara and more) plus the talent behind countless other film and television projects (Julia Louis-Dreyfus, Jordan Peele, Stephen Colbert, Harold Ramis).
But Chicago isn't simply a training ground or a springboard to the coasts, nor is it just about actors and writers. There's an entire ecosystem of professionals living and working in all sides of film, television and theatrical production.
"The continuing growth of television and film production has provided the opportunity for workforce development," says Jennifer Jobst, president of IATSE TWU Local 769, which covers theater as well as film and television. "Participating in community outreach through training programs and education provides the union as well as the entertainment business with the opportunity to develop interest and encourage people to enter this career path."
Jobst points to Chicago Made, an Illinois workforce development program where hands-on training both provides career development while helping productions, as well as the Illinois Tax Incentive, which she says provides a professional stability, allowing workers to feel confident in pursuing and maintaining a sustainable career in Illinois in the entertainment industry.
Economic benefits from the industry to the broader community also flow to homegrown suppliers. "The various costume and wardrobe departments depend on local vendors to support the work of the departments, including fabric stores, cleaners, cobblers, screen printers and retail," Jobst says. "As unique and sometimes demanding customers, we share vendors that are skilled and willing to meet the challenges and demands of the entertainment costume departments and wardrobe departments."
Ultimately, there's no shortage of opportunities for learning about theater in Chicago and Illinois, and plenty of places to ply the many trades that make up the industry.
Read More About:
Source: Read Full Article