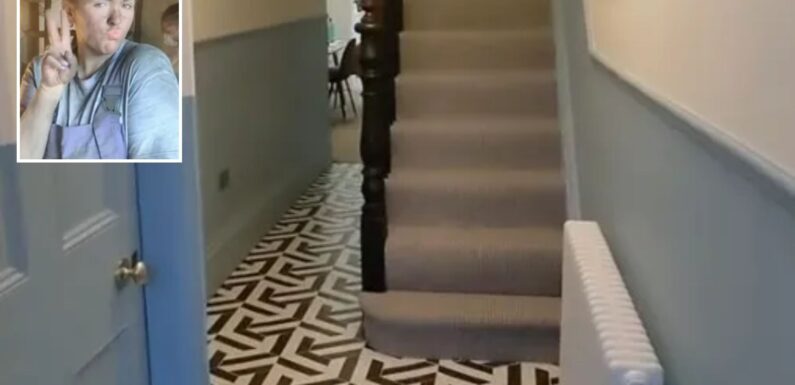 RENOVATING a home is not an easy task to undertake and with the successes come a few failures. 
Sharn knows this all too well and after two years of giving her house a makeover, she's shared the top three things she regrets. 
"These are the three things in our renovation home that I regret doing the most," she told viewers as the clip started.
She then explained that she's been designing "every last inch" of her home for the past two years.
And if she had to do it all again, there are a few things she'd do differently. 
First on her list was picking white grout for the hallway tiles. 
read more fabulous stories
I upgraded my kitchen on a budget with Dollar Tree buys – I love them so much
I DIYed a budget-friendly privacy screen with two Amazon and Home Depot buys
Panning the camera over the space, viewers could see a gorgeous hallway with black and white tiles running through it. 
"Big mistake," she said. "I love this hallway and the grout doesn't look awful from a distance, but nearly two years on… It is pretty grey!. 
She went on to the second mistake she made, which was her choice of microcement flooring for the kitchen in "far too light a colour".
As the camera went over the green cupboards and white floors, she continued: "When it's clean, it looks great. But it shows every little mark and bit of dirt."
Most read in Fabulous
Harry's High Court case was 'pulled apart in humiliating fashion' says source
I've matched with 1k men but refuse to date them, they don't meet my 8 standards
Sarah Ferguson seen for first time since cancer shock in car with Andrew
I'm a millionaire who swapped homes with a poor dad – now I pay him £50k salary
Showing a short clip of herself mopping the floors, she said that it needs cleaning several times a week. 
"Way too much upkeep for me," she added. 
She continued: "Number three: not picking a better tile trim for our lounge fireplace. I mean I love this fireplace so much but the finish around the edge isn't great.
"We've got this gap at the end, which wouldn't look so bad if we'd picked a thicker, more visibly brass trim. But we live and we learn." 
In the caption, TikTok user @sharnshouse added: "Renovation regrets I wish I'd known before". 
People flocked to the comments to share their thoughts as one person wrote: "I think these are things you would notice as the homeowner and not a visitor. beautiful house!"
She replied: "Absolutely! No one ever sees these things!" 
Another shared: "I have a bit of a wild tile like yours in my kitchen, I mentioned white grout to my tiler, he said absolutely not! Made me do charcoal."
While a third added: "That's why I have a grey kitchen floor! I'm so messy and hate cleaning [crying with laughter emoji] Your gaff looks beautiful though!"

Source: Read Full Article