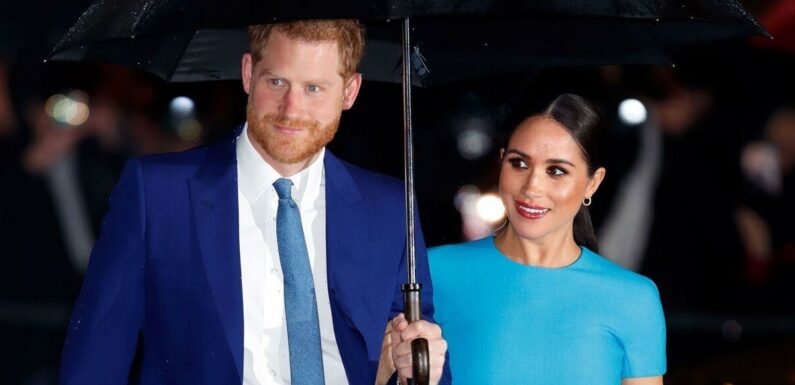 We use your sign-up to provide content in ways you've consented to and to improve our understanding of you. This may include adverts from us and 3rd parties based on our understanding. You can unsubscribe at any time. More info
Royal and fashion expert Miranda Holder analysed Meghan Markle's style during her time as a working royal as well as during her final days in the UK and explained why the Duchess of Sussex "needed to spread her rainbow wings".
Miranda explained that neutrals can be "super-chic and a 'safer' option for some, but there's nothing quite like vivid colour to put a spring in your step, lift your complexion and boost your mood".
Meghan did exactly that during her last week of royal duties after a few years of wearing neutral monochromatic looks only.
In her Netflix documentary, Meghan admitted to wearing only neutrals when she joined the Royal Family "in an effort to blend in".
"But this went against the grain for free-spirited California girl Meghan who is, with her acting career, comfortable with being in the spotlight," Miranda commented.
Meghan explained: "Most of the time that I was in the UK, I rarely wore colour. There was thought in that.
"To my understanding, you can't ever wear the same colour as Her Majesty if there's a group event, but then you also shouldn't be wearing the same colour as one of the other, more senior members of the family.
"So I was like, well what's a colour that they'll probably never wear? Camel? Beige? White? So, I wore a lot of muted tones, but it also was so I could just blend in.
"Like, I'm not trying to stand out here. So there's no version of me joining this family and trying to not do everything I could to fit in. I don't want to embarrass the family."
The fashion expert explained that colour is one of the classic ways in which "we sartorially express ourselves, both consciously and unconsciously".
"So it is absolutely significant that Meghan spread her rainbow wings during her last few days as a working royal," she added.
According to the expert, the Duchess of Sussex "felt she finally had the freedom to do so" after she and Harry announced that they were stepping back from their royal duties.
Miranda opined that Meghan "looked beautiful" in neutrals, and all the hues "suited her colouring and she looked elegant and sophisticated".
However, once she "allowed herself to enjoy her wardrobe again in these final photographs, she literally glows".
In march 2020, Meghan chose a bright red floor-length gown to attend The Mountbatten Festival of Music at the Royal Albert Hall with Prince Harry.
A few days later, the couple made an appearance at The Endeavour Fund Awards at Mansion House and Meghan chose a long blue dress.
The Duchess looked stunning arriving at the event under the rain next to Harry in what became one of the most iconic pictures of the couple.
Spare: by Prince Harry, The Duke of Sussex
£28 £14 View Deal
Prince Harry's highly anticipated and revealing memoir, Spare, launches on January 10, 2023. Available to pre-order now on Amazon, shop to read the gripping story of his life growing up in the royal household.
Royal fans commented on the style evolution with Instagram user @fashionable_later saying: "Always a fan of bold colours. Given recent press, she might be wishing to hide away."
Another one, @thatgirlupnorth, opined: "I heard royals are wearing colours that make them stand out in the crowd to be easily spotted (except for when accompanying the Queen).
"Also by wearing neutral colours when everyone is wearing bright, didn't she do the opposite of trying to 'fit in'?"
"She certainly looked beautiful in those beautiful bright colours," added royal fan and social media user @allthingszanne.
Source: Read Full Article