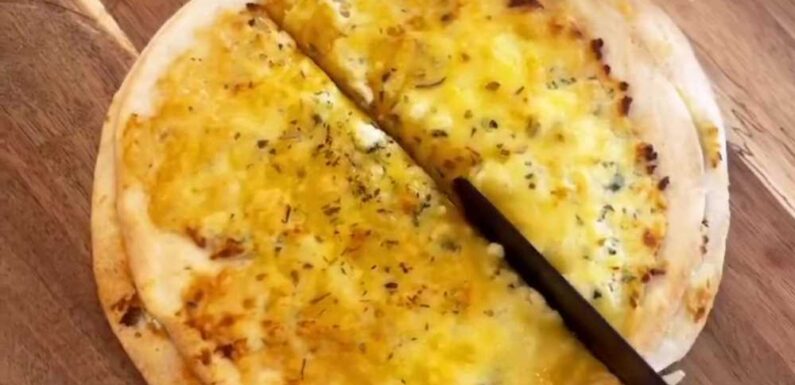 SHE'S already many people's go-to influencer for cleaning tips and tricks, but now Mrs Hinch has shared her cooking tips – and her culinary creation looks so tasty.
Mrs Hinch, real name Sophie Hinchliffe, revealed she's a big fan of making ultimate cheesy garlic bread using her air fryer.
But she said there's a secret ingredient you need to buy that elevates the popular side dish to the next level and ensures it's the cheesiest you've ever tasted.
On her recent Instagram story, the 33-year-old shared how the quick and easy snack was something she regularly rustled up.
Holding up the cut up pieces of the bread to the camera, the mum-of-three said: "I make these little cheesy garlic breads so much in the air fryer.
"Look how cheesy they are!"
Read More in Food
My air fryer homemade Nando's recipe is perfect – people say it tastes the same
Foodies love Aldi's Christmas party range including mini Greggs dupes
Mrs Hinch then continued: "They're so quick and easy.
"And when I tell you, they're the cheesiest of cheese."
The influencer then went on to explain how you can make them too – lifting the lid on the 10 minute prep and cooking process.
First, she explained that all you need are two large tortilla wraps, some grated cheese of your choice – and the extra special ingredient, Boursin cheese spread.
Most read in Fabulous
MYSTIC MEG
A face or place on a TV property show can be the final key
STARS IN THEIR EYES
King Charles & Camilla joined by Mick Jagger at star-studded banquet
KATE HITS BACK
Trolls say my pic 'triggered anorexia' – but I'm healthy, says Kate Lawler
RAD NEWS
Millie Radford, 22, announces birth of third child
And it really is as simple as spreading a generous helping of Boursin onto one of the wraps and adding the grated cheese.
Then, once you've got as much as you fancy on there, just layer the other tortilla wrap on top and repeat the process.
Once that's done, Mrs Hinch moved the bread into her air fryer and set it to 180 degrees.
And she said the bread only takes six minutes to cook and comes out bubbling, with the cheese having melted to perfection.
This comes after Mrs Hinch, who is a proud owner of a double drawer Ninja air fryer, revealed another of her must-try cheese dishes.
I make these little cheesy garlic breads so much in the air fryer
The author once again took to Instagram to share how she'd been "fully sucked into any air fryer hack that involves cheese."
She then unveiled the recipe, which once again uses a tortilla wrap, cheese strings, and some herbs for seasoning. 
And she showed other foodies that all they had to do was wrap the cheese string in half a tortilla wrap, coat it with a brush of oil, add the herbs and cook in the air fryer.
She then served it with a sweet chilli dip – and the idea went down a treat with her followers.
One said: "These look amazing." As a second social media user added: "I mean yes please to the cheese – these look so nice."
READ MORE SUN STORIES
Love Island couple branded 'embarrassing' as they 'confirm they're back together'
Inside Sue & Noel Radford's love story & why they didn't stop having kids
Fabulous will pay for your exclusive stories. Just email: fab[email protected] and pop EXCLUSIVE in the subject line
Source: Read Full Article