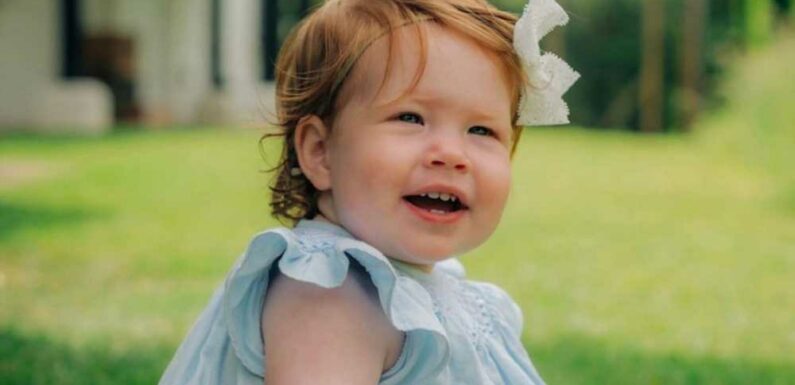 AMERICAN actor Tyler Perry is Lilibet's godfather – but the identity of her godmother remains unknown.
The billionaire filmmaker and the unnamed woman were at the youngster's side at a secret christening in California last week, it was confirmed today.
Around 25 guests gathered to celebrate Prince Harry and Meghan Markle's daughter on March 3, PEOPLE reports.
Among them was Perry, 53, known for his iconic Madea character, and an unidentified godmother.
Oprah Winfrey and Serena Williams were rumoured to be in the running for the position when Lilibet was born in June 2021, but nothing has been confirmed.
Her brother Archie's godparents are understood to be Harry's former nanny Tiggy Pettifer, ex Welsh Guards officer Mark Dyer and close pal Charlie van Straubenzee.
READ MORE ROYAL NEWS
Meghan & Harry christen daughter 'Princess Lilibet Diana' at LA ceremony
Real reason Charles evicted Meg & Harry after son 'crossed a line'
Members of the Royal Family were allegedly invited to Lili's christening at the Sussex family home but chose not to go.
King Charles, Camilla, Prince William and Kate were asked to be there but declined, according to a source.
Instead, the duke and duchess were joined by three-year-old son Archie, Meghan's mum Doria Ragland, Perry and between 20 and 30 close friends.
They are said to have enjoyed an afternoon of food and dancing following the ceremony at their home.
Most read in Fabulous
Meghan & Harry christen daughter 'Princess Lilibet Diana' at LA ceremony
I'm a teacher & saw the worst appreciation gift ever – it's so disrespectful
I'm almost an OAP but men in their 20s hit on me, my secret is Aldi
I heard M&S was cheaper than Aldi so decided to swap – here's how it went
A spokesperson for the couple told PEOPLE: "I can confirm that Princess Lilibet Diana was christened on Friday, March 3 by the Archbishop of Los Angeles, the Rev John Taylor."
It is the first time Lili has been publicly referred to as a princess.
The 21-month-old will use the title in formal settings but not in everyday conversation, it is understood.
Harry and Meg are thought to be keen not to deny their children their birth-right, but allow them the chance to decide for themselves whether to drop or keep using their titles when they get older.
As the children of a sovereign's son, Archie and Lili are automatically a prince and princess and now have an HRH style if they choose.
When Archie was born in May 2019, he was seventh in line to the throne so was too far down the line of succession.
Although he was a great-grandchild of the monarch, he was not a first-born son of a future king, so was not automatically a prince.
The King was notified of Harry and Meghan's intention to use the titles in formal settings from March 2023, an insider told The Mirror.
Buckingham Palace said the royal website, which currently lists the children as Master Archie and Miss Lilibet, will be updated to reflect the change.
SECRET CEREMONY
Lilibet's godfather allegedly flew to Montecito, Los Angeles, from Atlanta for the christening with a 10-person gospel choir.
The group performed Oh Happy Day and This Little Light of Mine, which was also played at Harry and Meghan's wedding in 2018.
Perry was confirmed as Lili's godfather in the Sussexes' Netflix documentary, which came out in December last year.
Harry and Meghan, who stayed at the media mogul's home for six weeks before finding a permanent home in Montecito, called him to ask him to take up the role.
Perry, who has an estimated net worth of more than $1billion, said: "We'll call and we'll chat and we'll talk about silly things, and they were pretty serious on the phone and I go, 'Okay, what's going on?
"They said, 'Well, we'd like for you to be Lili's godfather.'
"I go, 'Whoa.' I had to take a minute to take that in and I thought, 'I'd be honoured. I'd be absolutely honoured.'"
His one condition, however, was that he didn't want to fly to the UK for a church service with the Firm.
"I don't wanna do that," he said.
"Maybe we can do a little private ceremony here and let that be that, and if you have to do it there, then that's okay."
Traditionally, a royal christening is a small, family affair held in the historic chapels of Buckingham Palace or Windsor.
Archie was christened at eight weeks old in a quiet, private ceremony in front of about 25 guests at Windsor Castle on July 6, 2019. 
Like many young royals before him, including his cousins George, Charlotte, and Louis, he wore a special royal gown.
Unless flown over specially, Lilibet is unlikely to have worn the same outfit.
Doria, Charles, Camilla, William and Kate were all in attendance at Archie's special day, but the Queen and Prince Philip were absent, having already made plans to spend the week together at Sandringham.
Read More on The Sun
Shoppers are going wild for Asda's mega sale where PJs are scanning for £3
Dog trainer reveals three breeds he'd never advise for a first-time dog owner
Princess Diana's sisters Lady Jane Fellowes and Lady Sarah McCorquodale were also in the official christening photo.
Harry's own christening was held at St George's Chapel – where he married Meghan – on December 21, 1984. 

Source: Read Full Article